UI/UX Course in Noida ▷ Live Projects ▷ HRML, CSS, JavaScripti, Angular, React.js ▷ SLA Institute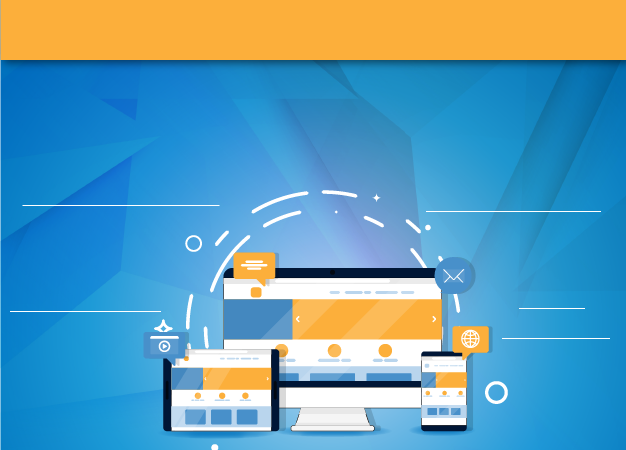 UI/UX Designing Training Course
JavaScript & JQuery
Twitter Bootstrap
HTML & CSS3
Adobe
Photoshop
UI/UX Designing Training Course in Noida
UI/UX Designing involves a design-oriented approach towards designing interface and user experience in order to increase the growth and sales of the business. Designing a perfect UI or UX allows many businesses to gain potential customers and build a trusted relationship with them. It also makes sure that their web or Mobile Application is providing them everything they needed. Normally, a UI/UX designer works on design skills in order to plan their path in this developing field. UI and UX both are different in single client experience. UX is the term used for user experience and UI is basically used for User Interface. User Experience is directly concerned with the ways customer interacts with an application or website. But, User Interface focuses on the overall layout and look of the application or website.
The biggest advantage of a quality website is its impressive visual design which enables users to get what they actually want. User Interface usually includes buttons, screens, pages and all the essential visual components that encourage users to interact with a device. A smartly designed website is always easy to navigate and compatible with almost every device. This is because of highly skilled UI designers who aim at designing easy-to-use software for almost every type of digital product, including all the websites and applications. Getting trained in UI/UX Designing can help you build some highly interactive websites so that users can get what they have expected from your website. UI/UX Designing Training Course will help candidates to design a successful website that can quickly and efficiently respond. Any software and its design highly rely on the user experience because nowadays, it's all about customers and their requirements. Most of the times, users can search the web while knowing what they exactly looking for. Being a highly-skilled UI/UX designer means you will be navigating people through your website in the most effective manner so that they can get what they need.
SLA Consultants Noida provides the Best UI/UX Designing Training Course for the candidates who want to pursue a flourishing career in UI/UX designing. If you are looking for Industry-Accepted UI/UX Designing Certification in Noida, then SLA Consultants Noida promises a perfect learning environment for the candidates.
Whether it is about the website/Mobile App of a business organization or a software company, the foremost objective is to deliver the best experience to the customer. User Interface and User Experience both are the areas that are booming in the industry of Software Designing, focusing on offering a seamless experience to the customers to provide complete satisfaction. SLA Consultants Noida's UI/UX Designing Training Course trains the candidates on every aspect of User Interface and User Experience designing to make them job ready. UI/UX Designer Training Course will help candidates to build their creative portfolio and get the best job opportunities in the industry. UI/UX Designing Course will help you develop the upgraded visual sense to make the right design choices. Our experienced instructors will guide their students to develop a digital visual UI for websites and Mobile Apps. The UI/UX Training Course will offer you a great chance to create an extraordinary portfolio which can showcase your own personality, writing, and projects. Along with brilliant guidance, we also offer our candidates with 100% Placement Assistance so that they can prepare themselves for a flourishing future. UI/UX Designing Training will give you a better understanding of HTML & CSS2, Javascript & JQuery, HTML5 & CSS3, Twitter Bootstrap, and Adobe Photoshop. The UI/UX Training Course will be followed by a live project which will provide you a real-time exposure to work on clients. 40-45 hours UI/UX Training Course with highly skilled corporate instructors can be scheduled on weekdays as well as weekends.
SLA Consultants Noida provides a great opportunity for the candidates who want to expand their knowledge and grasp Real-time UI/UX Designing Training via various workshops and case studies by the most experienced and expert UI/UX designer trainers. UI/UX Designing Certification Training will be delivered according to the industry criterion which would benefit the candidates to up-skill. Candidates can also ask the admin support team to arrange a doubt or backup session for them. 7 days class scheduling or re-scheduling assistance is provided to the candidates of the upcoming batch.
UI/UX Designing Training Course targets both fresher and experienced candidates that want to glaze their potential via Industry-oriented UI/UX Designer Practical Training. To know further details regarding this UI/UX Designing Training Course, you can visit our Best UI/UX Designing Training Institute in Noida or register through our contact number.
Attend UI/UX Designing Training by SLA Consultants Noida to learn all the basic and higher-level concepts of User Interface and User Experience. By the end of this UI/UX Designing Training Institute, you will be able to create different kinds of websites using your UI/UX skills. Designing an appropriate User Experience or UX will increase your user engagements with your particular product. UX or UI is quite easy to understand and implement. UX includes the process of enhancing or creating quality interaction between the customer and the product. On the other hand, UI includes the main design of the websites, Mobile App, or device. These days, most of the Mobile Applications and devices focus on user experience and user interface. The basic knowledge of HTML or CSS can help you get a better understanding of all the concepts of UI or UX. Joining this UI/UX Designing Course at SLA Consultants Noida will uplift their UI/UX designing skills in a wider manner. Let's discuss some other compelling reasons to attend this UI/UX Training Course at SLA Consultants Noida.
To become a certified or professional UI/UX designer, it is very important for the candidates to find the right place to learn UI/UX designing. SLA Consultants Noida can be the Best UI/UX Training Institute in Noida, providing UI/UX training at reasonable prices.
SLA Consultants Noida provides structured learning with real-time based projects and training to upgrade your skills to induce creativity and potential in you. After the completion of this UI/UX Designing Training Course, you can get 100% Placement Assistance by the placement team of SLA to get a job in the desired industry. Join SLA to build a better career in UI/UX designing.
The UI/UX Designing Course duration is 40-45 hours. Candidates can also schedule their classes on weekends. This short term training course is divided into 6 modules, each module containing some essential concepts of the User interface and User experience designing. Live project-based training which is included in the last module helps the candidate to gain exposure to working according to the requirements of the customers.
At SLA Consultants Noida, students will be provided with timely assignments, handouts, presentations, study material, practical test series, demonstrations, workshops, and real-time training sessions. All of these facilities will help candidates to stay active and focused during this training course and prepare themselves of a couple of interviews that will be arranged by the team of SLA Consultants Noida.
The industry-accepted certification in UI/UX Designing will encourage both fresher and experienced candidates to build their resume as per industry standards and grab better job opportunities in the desired industry. The candidates will be under the guidance of professionals and expert Web UI/UX designer trainers with 10+ years of experience.
Attend UI/UX Designing Training Course at SLA Consultants Noida to get industry-accepted certification as per industry criterion for UX/UI training. Enroll via our phone number or email I.D given on the website of SLA Consultants Noida.
Course Duration: 40 – 45 HRS with Highly Skilled Corporate Trainers (Responsive Ui/Ux Designing Live Course Training) for 6 Modules – Weekdays / Weekend
SLA Consultants Noida – Responsive Ui/Ux Designing Certification Training Delivery Method:
Web / Desktop Base.
Instructor-Led Classroom Sessions.
Presentations/Demonstration/Practicals of concepts.
Handouts/Assignments/Real-time Exposure to work on Clients.
UI/UX Designing Programme Modules
UI/UX Designing Modules
Find the course details below.
Duration of Module
| UI/UX Designing Course Module | Course Duration |
| --- | --- |
| UI/UX Designing | 40 – 45 Hours |
Batch Timings
| UI/UX Designing Course Schedule | Course Timing |
| --- | --- |
| Monday to Friday | 8:00 AM – 10:00 AM |
| Monday to Friday | 10:00 AM – 12:00 PM |
| Monday to Friday | 2:00 PM – 4:00 PM |
| Monday to Friday | 4:00 PM – 6:00 PM |
| Saturday/Sunday | 8:00 | 12:00 | 2:00 | 4:00 |
| Sunday | 8:00 AM – 10:00 AM |
| Sunday | 10:00 AM – 12:00 PM |
| Sunday | 2:00 PM – 4:00 PM |
| Sunday | 4:00 PM – 6:00 PM |
Download UI/UX Designing Course Brochure