RPA – OpenSpan Certification Training Course in Noida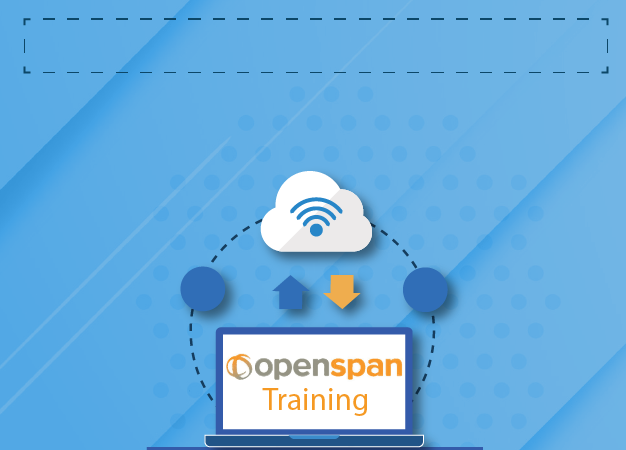 OpenSpan RPA Training Course
Interogating a Web Application
Working with
Interaction Framework
Solution
Development
OpenSpan
Solution
Debugging
OpenSpan
Solution
RPA OpenSpan Course in Noida
RPA – OpenSpan Training Course in Noida
A software application that will replicate the actions or tasks exactly the way how a human does is what we call as RPA. Usually, it will automate the base value of activities carried by individuals. Probably, RPA is used only for administrative process self-regulation and it does not apply to all personal activities. To mention one of the leading integrated application and automation software for the business known as OpenSpan, enables 2000 companies globally to advance the potency of the workers by giving a simple method to blend object between applications to replace manual tasks, to build automation extent, the function of applications, and to develop unique applications which present a dashboard that traverses various applications. SLA Consultants Noida offers RPA – OpenSpan Certification Training Course which is job oriented corporate training from experts in Data Analyst or Robotic Process Automation The training comes with placement assistance that gives learners a kickstart or boosts the career in RPA field.
At present, OpenSpan is a member of PEGA systems which is an enterprise explorer in automation which promote conversion actions concentrated on encouraging earnings extension, consumer record value, and operational performance. The OpenSpan resolutions are optimizing several activities inside the connection, and important process factors in companies over the environment. As a result, this technology allows organizations to leverage an iterative method for developing manners, automating business and building responses that reduce expenses and raise values. SLA Consultants Noida gives RPA – OpenSpan Certification Training Course in modules that comprise of Recommended Practices for Solution Building, Working with Interaction Framework, Deploying OpenSpan Solutions, Recommended Practices for Solution Development, Interrogating a Web Application, and Debugging OpenSpan Project. In SLA Consultants Noida training comes with lab facilities, workshop sessions, exposure of working with industry clients, admin support, live projects, and web or desktop instructor-led classes, etc. RPA – OpenSpan Training Course offered by SLA Consultants Noida allows learners to make the best use of RPA – OpenSpan who are looking to enhance their knowledge in Automation of Robotics and develop business automation processes easily.
This RPA OpenSpan Certification Training Course offered by SLA Consultants Noida is one of the most sophisticated and widely Popular OpenSpan Robotic Process Automation Training Course that covers conceptual understanding as well as practical industry criterion training in Solution Development, Debugging OpenSpan Solution, Working with Interaction Framework, and OpenSpan. It is a remarkable automation tool which helps in developing application integration and automation projects using OpenSpan Studio which runs with Microsoft Visual Studio. This RPA OpenSpan Training will provide valuable insight and expertise to the learner on effectively utilizing OpenSpan. In this RPA – OpenSpan Certification Training Course by SLA Consultants Noida, how RPA can reduce the pressure while the CSR is in a proposal with the consumer. Pega had published their purchase of OpenSpan, which is a software vendor in the RPA business. Certainly, these solutions can operate collectively to work on various market difficulties. Mostly, this system comprises knowledge and models for Runtime users and Studio which are presently identified as PEGA Robotic Automation by PEGA systems. This training course of OpenSpan is about getting into the automated robotic world using this tool. This tool improves your productivity. This specialized software is desktop automation and analytic tool platform developed for faster, more efficient and front office and back-office operations. It allows the system includes the reference data and examples for OpenSpan Studio and OpenSpan runtime where it is a part of PEGA.
SLA Consultants Noida gives RPA – OpenSpan Certification Training Course in modules that comprise of Overview on OpenSpan – Windows Integration – Interaction Framework – Web Integration – Agile Desktop and Deployment – Diagnostics and Debugging. With SLA Consultants Noida, learners will the insights into using RPA over the Organizations, managing RPA solutions for ensuring the permanent result and mastering the skills in efficient organizational operations. Now, OpenSpan is one of the most popular service providers of the Robotic Process Automation process. It is fundamentally innovative ways of finding optimization, process analytics, and its related automation results. OpenSpan is referred to as an automation tool that works on creation, application integration and to automate projects, being a part of the Pegasystems. This training can be opted by Business Professionals, digital Marketing Authorities, IT Experts, executive Specialists, automation Students, fresh Graduates.
The OpenSpan RPA is a privately held software by Pega systems which empowers the world's leading organizations by its robotics process automation software for customer care representatives.
The OpenSpan is an Automation tool which provides instruction on using OpenSpan Studio to create application integration and automation projects. The best OpenSpan Training will help the aspirants to attain knowledge regarding various aspects which mainly includes: In-depth knowledge in OpenSpan and its varied applications, extorting talents about data manipulation inside the mechanization works, package quantity of capacity concerning the OpenSpan robotics occupied set-up, partaking involvement in debugging matters.
Overall understanding of RPA and its working principals, workflow and life cycle of RPA using OpenSpan, real-time hands-on exposure to OpenSpan solutions, learn the best industrial practices from experts. Post completion of Robotics Process Automation, learners will acquire both practical and theoretical knowledge as per current IT Industry.
RPA OpenSpan is one of the future jobs that is going to outsmart the world. No more uninteresting jobs and disappointed employees. And that doesn't mean unemployed graduates too. Several jobs needed trained candidates contribution through their mind which will make them bubble with joy.
Most importantly, getting familiar with the OpenSpan environment will make you run parallel to this leading provider of application integration and automation software using the RPA techniques for various enterprises.
From this training and course orientation, you can help various Global 2000 enterprises to work on its productivity standards by simplifying the jobs through data integration between the apps, replacing the manual tasks with in-built automation for, extended functionality of the existing applications, and create new applications for single user interface spanning multiple applications.
Moreover, this is why this sector holds a highly promising career opportunity for professionals in this field. As of now, it has emerged as one of the most realistic and practical automation technologies among the RPA tools that provide high paying jobs and career opportunities in this sector.
So, if you are a keen seeker of prospective automated job segment and high rise career in the field in the RPA domain, OpenSpan is a perfect way to achieve it.
HR Psychometric Test Training Course- 100% Practical Training with Interview Guarantee
Course Duration: 35 HRS with Highly Skilled Corporate Trainers (RPA – OpenSpan Training Course) for Modules-Weekdays/Weekend
SLA Consultants Noida – RPA-OpenSpan Certification Training Delivery Method:
Web / Desktop Base.
Instructor-Led Classroom Sessions.
Presentations/Demonstration/Practicals of concepts.
Handouts/Assignments/Real-time Exposure to work on Clients.
RPA – OpenSpan Programme Modules
RPA – OpenSpan Training Course
Find the course details below.
Duration of Module
OpenSpan Course Module
OpenSpan Course Duration
RPA OpenSpan
35 (Hours)
Batch Timings
| OpenSpan Course Schedule | OpenSpan Course Timing |
| --- | --- |
| Monday to Friday | 8:00 AM – 10:00 AM |
| Monday to Friday | 10:00 AM – 12:00 PM |
| Monday to Friday | 2:00 PM – 4:00 PM |
| Monday to Friday | 4:00 PM – 6:00 PM |
| Saturday/Sunday | 8:00 | 12:00 | 2:00 | 4:00 |
| Sunday | 8:00 AM – 10:00 AM |
| Sunday | 10:00 AM – 12:00 PM |
| Sunday | 2:00 PM – 4:00 PM |
| Sunday | 4:00 PM – 6:00 PM |
Download RPA OpenSpan Course Brochure
FAQ