SLA Consultants Noida – About US – Training & Placements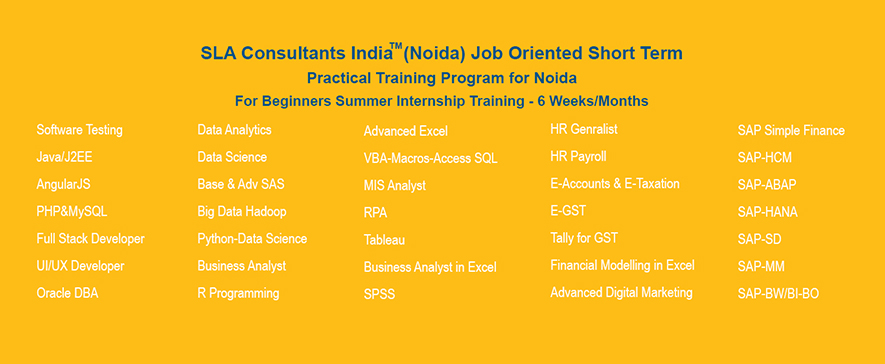 SLA (Structured-Learning-Assistance) Consultants Noida has rooted itself as the Best Training Institute for countless IT & Non-IT Training Institutes. Industry experts at SLA will ensure you to offer the best of everything. Our certification course curriculum includes Software Testing, PHP Development, Java Development, Digital Marketing, Tally, Human Resource-HR, Accounts, Taxation, GST, Tally and much more.
We've encouraged many students, businessmen, and professionals to keep flourish and abreast in their field of interest. We are offering certification courses to help the fresher and experienced candidates reach desired position in this competitive world. The scope of each one is special. In each industry, companies (MNCs and non-MNCs) are demanding professionals with the potential of performing remarkably. We are committed to encouraging an environment of complete comfort and knowledge where each of our learners is motivated to upgrade the skill and meet the goals of his/her life. At SLA, we are focused on delivering the best job-oriented courses in Noida to help you get the desired jobs in the industry.
The experts at SLA contribute a maximum of their knowledge and try their level best to sharpen the abilities and skills of trainees so that they can stand out from others and become more productive in their industries. SLA Consultants Noida is a trusted IT & Non-IT Training Institute to give you the project-based training and placement cell for a brighter future. Our trainers held many skill development programs to upgrade your skills as per the demands of the industries.
Vision and Mission
Our Mission is to align our effort, talent and contributes to support and drive our learner's requirements and a brighter future. We put our learners' satisfaction at the center of everything we do! At SLA, we are devoted to absolute integrity and loyalty in all our offerings. Our experts are transparent, friendly and dependable. They mean what they say. We keep your success ahead of us, ensuring every step that we take helps your skills and knowledge grow. By delivering a remarkable learning experience, we try to meet our learners' expectations.
We owe our sustained success to the combined efforts, expertise and hard work of our brilliant team.