Microsoft (MS) Power BI Training Course in Noida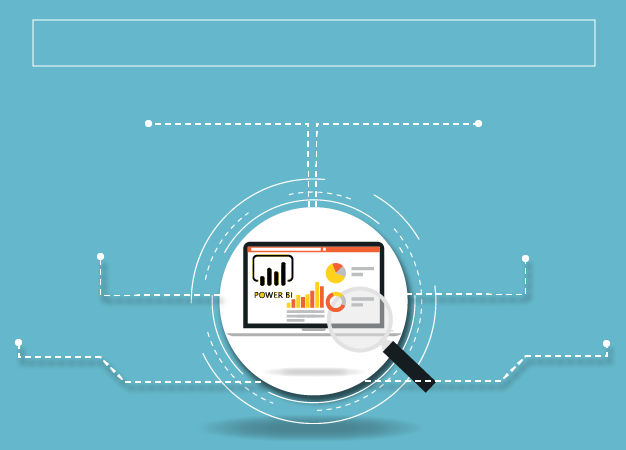 MS Power BI Training Course
DAX (Data Analysis Expression)
Modelling in Power BI
Data Visualization
Getting Business Data
Data Exploring & Sharing
Microsoft (MS) Power BI Course Noida
Microsoft (MS) Power BI Training Course in India
The concept of POWER BI is a business analytics profile that is provided by Microsoft. Can you imagine the beauty in a situation where end users can create reports and dashboards by themselves without the input of the information technology staff/database administrators in the organization? That is the real scenario that is created through any involvement in Microsoft Power BI Training Course in Noida. We are all aware of the important role that data plays in the survival of any company; a situation where expertise is given to staffs outside the ICT department will be a welcome development.
SLA Consultants Noida offers Microsoft Power BI Training Course designed from experts who have relevant experience in their respective field. Going into Power BI Training Course that has to do with analyze in excel is never a waste of time but an excellent idea for a smart business executive to monitor and control their data against the harsh realities that befall data in the cloud. This is a perfect way to bridge the gap between data sets as well as reports that connect directly to analytics services multidimensional/Analysis Services Tabular. This course of study will bring out data models through model measures that which is useful for effectiveness for any business setup that wants to remain competitive in this digital world of business that we find ourselves.
The above concept is created using Data Analysis Expressions (DAX). SLA Consultants Noida gives training of getting the issues of effective coordination of data in place in the workplace. Issues that have to do with improper use of data that makes some business operate below their capacity will be effectively put in check; there will be free flow in the business line of operations. This is the ideal situation that business executives need which will make them go to sleep with both eyes closed with the belief that all is well with the effective coordination of their data.
Microsoft Power BI Training Course offered by SLA Consultants Noida will open a new lease of life to business setups that want to spread expertise of a very sensitive aspect of their business operations (data coordination) across the board. Microsoft Power BI Training Course is a must for any organization that wants to compete at the very top because it provides an enabling environment that will make a smooth flow in business operations a practical reality.
SLA Consultants Noida is a training institute that will guarantee you the best option is one that has the capacity both in terms of equipment and manpower to deliver industry based conditions in the classroom to their students. Microsoft Power BI Training Course is given in modules so that it give enough chance to the learners to acquire every element of Power BI techniques. It covers Introduction to Power BI, Reports Creation, Report Visualization, Drill-down Reports & Power Query, etc. SLA Consultants Noida gives the Power BI Training is based on real-time projects. It gives the best training to the learners that will effectively position them well to fit into the industrial setting. SLA Consultants has a high technical infrastructure as well as excellent lab facilities. It helps students to avail the benefits of lab facilities and gain access to every necessary mechanism significant for the training. Corporations will also get exactly what they needed to move position their business ahead of their competitors. The best that is there on offer in this course of study is target based. It is never a general norm. The topics that are taught in this Microsoft Power bi training course are all-inclusive.
SLA Consultants Noida gives Microsoft Power BI Training Course from experts based on real-time learning in the classroom sessions with a desktop or web-based training embraces with demonstrations, assignments, and presentations. This will facilitate easy learning in the classrooms. Taking it further, there should be live training programs which must be based on live industry projects. SLA Consultants Noida gives the best practical knowledge from the instructors are the ones that have practical experiences in the field. SLA Consultants Noida offers job oriented corporate based MS Power BI Training Course is tailored towards giving you the best that you are entitled to which will adequately prepare you for the challenges that you are going to face when you step out into the industry.
The effective management of data is the only way for companies to make the gains in this every changing world of digital business. Smart business executives are looking for experts in the field that will help coordinate their data in an effective manner that will guarantee the results that will make their brand competitive in the labor market.
There are little jobs around and many candidates chasing the available spots. In the same token, there are sensitive jobs that are in need of the professionals to man the available positions. In this regard, this course of study falls within the area of specialization that needs the hands that will manage it. So if you take it upon yourself to get certified through this course, you will be a hot cake in the labor market.
When the employers of labor in any interview notice your certification, they will take a special interest in you and place your candidacy ahead of the rest. Getting the job will, therefore, be easy ahead of all the other contenders that are not certified because the employers will see your candidacy as an asset to their business line of actions.
While others are searching for a job, it will be the other way around for you because the job will rather search for your expertise because the issue of effective management of data is a must for any establishment that is expanding and which wants to sustain the tempo of their growth. Companies are having a shift from overall dependence on the ICT department on the effective management of their data. They want to spread across because it will be in their overall best interests.
Everybody desires a well-paid job but it is only meant for the few that has what it takes in terms of professional qualifications to handle such jobs. So when you partake in this course, you are building a platform that will ensure that you are ranked among the highest paid pros in the sector. Aside from this, the vacancies will be chasing you and not you chasing the vacancy.
Engaging in Power BI Training will make you the beautiful bride that is sought by eligible suitors. If you are currently engaged in employment for instance and you decide to take this course of study and become certified; immediately this reflects in your CV; your employer will notice it and give you a salary increase.
The offers will come with a fantastic salary that will by far be more than what you are earning in your present employment. We can go on with several references that show that Power BI Training Course of study is indeed something you should consider if you want the fast upgrade in your work.
Course Duration: 20 HRS with Highly Skilled Corporate Trainers (Microsoft Power BI) for Modules – Weekdays / Weekend
SLA Consultants Noida – Microsoft Power BI Practical Training Delivery Method:
Web / Desktop Base.
Instructor-Led Classroom Sessions.
Presentations/Demonstration/Practicals of concepts.
Handouts/Assignments/Real-time Exposure to work on Clients.
NOTE: Classes are also Available on Module Basis
Microsoft (MS) Power BI Programme Modules
Microsoft Power BI
A Quick Introduction
What is MSPBI and its scope
Learn the common work flow in MSPBI
Building blocks of MSPBI and its relations
Quick demo how to create a business dashboard in MSPBI
MSPBI components
Old vs. new technologies
Power BI Desktop/Service/Mobile
Getting Business Data
Get data in shape for use with MSPBI
Combining two or more data sets (source data) for reporting
Tackling messy data in MSPBI
Clean and transform data
Modelling in Power BI
How to connect many different data sources
Manage data source (database) relationships
Unique keys
Calculated columns and more
Custom calculations to evaluate time-based functions
Build calculated tables based on DAX formulas and expressions
Creating and viewing visuals easier with optimized models
Discover hierarchal drill-down tools for date fields
Data Visualization
Create and customize visualization in MSPBI and its power
Use combination charts
Create and format slicers with it
Map visualizations and its utilization
Use tables and matrixes
Long live bubbles
scatter charts in action
Advanced funnel and waterfall charts
Drive fast dashboard insights with gauges and numbers
Color your visualization world with colors
shapes and scales
Adding personal touch
logo etc. to reports and dashboards
Display and present your dashboard in a way you want with summarize data
Control how your report elements overlap with each other
Learn to drill into hierarchies
Manage how levels are shared (Z-order in reports)
How to use R visuals in MSPBI
Data Exploring & Sharing
Quick insights in Power BI Service
Create and configure a dashboard
Share dashboard with your organization
Display and edit visuals- tiles
full screen
Get more space on your dashboard
Install and configure a personal gateway
Excel and MSPBI
Import and excel table into Power BI
Import excel files with data models and power view sheets
Connect One Drive for business to MSPBI
Excel data in Power BI summary
DAX (Data Analysis Expression) Application
DAX and its basic building blocks
Create calculated columns (fields) and measures in MSPBI using DAX formulas
Breadth of functions available in DAX
User variables in DAX
Create expressions across multiple tables with relational functions;
Filter and evaluate tables using advanced table functions
Find the Microsoft Power BI Course Duration Details below.
Duration of Module
| MS Power BI Course Module | Course Duration |
| --- | --- |
| Microsoft Power BI | 20 (Hours) |
Batch Timings
| MS Power BI Course Schedule | Course Timing |
| --- | --- |
| Monday to Friday | 8:00 AM – 10:00 AM |
| Monday to Friday | 10:00 AM – 12:00 PM |
| Monday to Friday | 2:00 PM – 4:00 PM |
| Monday to Friday | 4:00 PM – 6:00 PM |
| Saturday/Sunday | 8:00 | 12:00 | 2:00 | 4:00 |
| Sunday | 8:00 AM – 10:00 AM |
| Sunday | 10:00 AM – 12:00 PM |
| Sunday | 2:00 PM – 4:00 PM |
| Sunday | 4:00 PM – 6:00 PM |
Download MS Power BI Course Brochure