Basic & Core PHP – Web Development Training Course in Noida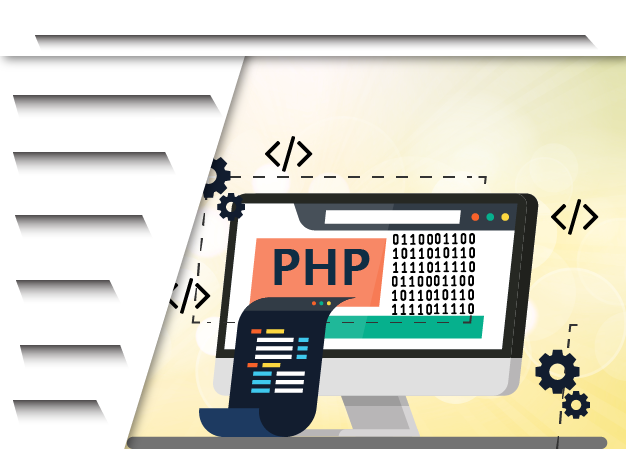 Core & Basic PHP Training Course
Core & Basic PHP
HTML & CSS
JavaScript
JQuery
Core PHP
MySQL
Basic PHP Training Course in Noida
PHP is one of the leading and widely popular server side programming languages in the current business market. It is utilised by 80% of websites as of now which showcases its incredible market share. A PHP developer is an individual who is responsible for writing server side coding and develops backend component in web application development. In today's business scenario, the profile of a professional PHP developer is gaining remarkable significance due to their increasing requirement and value for any business organisation. IT students are pursuing career in PHP development due to it being a highly competitive and job oriented skill. For those individuals who wants to gain knowledge and skills in PHP development can Join Basic and Core PHP Training Course in Noida designed and provided by SLA Consultants Noida. The Basic PHP Certification Course can be pursued by anyone with a graduation degree in IT field who is looking to enter into the web development field or desire to upgrade their current programming skills in PHP to become a candidate who is ready to face stiff competition in the market and overcome successfully. By learning PHP Web Development from SLA Consultants Noida, you will get the most ideal and appropriate PHP Training Course for beginners using innovative Basic PHP training techniques conducted by corporate trainers. The PHP course content is strictly crafted by industry experts that fulfills the current requirements of the business industry and able to provide short term and long term benefits to the candidate. Upon completion of the Basic PHP training, you will grasp fundamental PHP development skill which can help you acquire job opportunity for PHP developer profile for beginner level and offer you Foundation to learn Advanced PHP skills.
The Basic and Core PHP Development Training Course is a competitive Basic PHP training program designed to provide basic skills in PHP programming to the learner using real time PHP practical classes which are conducted under expert supervision. The applicant also learn through live projects and examples which upgrade their skills and experience in the field. Our trainers are some of the best industry experts with over 10 years of relevant experience and certification who deliver Best PHP Training Course with highly equipped lab facility that helps the candidate learn by doing. Upon completion of Basic PHP training, the learner is able to receive various skills and abilities which include integrating user facing elements developed by front end developer, integrating data storage solutions, developing efficient, reusable and testable PHP module, performance tuning and troubleshooting, understanding the MVC Design pattern, writing clean and fast PHP codes, producing detailed specifications, getting familiar with SQL database, understanding front end Technologies such as HTML, CSS and JavaScript, and much more.
There are a total of 5 different module in the Basic and Core PHP Certification Course that include HTML and CSS, jQuery and JavaScript, Core PHP and MySQL. Proper workshops and seminars will also be conducted to provide theoretical and practical knowledge of PHP development and its elements to the candidate in an efficient manner. At SLA Consultants Noida, the learners receive extensive admin support 7 days a week with flexible class timings along with backup classes. All the attendees are entitled to receive 100% Job Placement Assistance after 70 % completion of the Basic PHP training where Interview preparation and personality development training will be offered to them to become a job ready individual within a short amount of time. Apart from providing and enhancing their PHP development skill, which is enough to acquire a relevant job in the field, we will also offer a valid certification in PHP programming, that would specify the candidate a professional and certified individual allowing them to gain competitive as during the interview. And hence, anyone who is willing to learn PHP from beginning can attend the reliable Basic PHP certification program at once to lead a promising career ahead.
Websites and application have become an important aspect of any business as they are considered lifeline for organisations where they can promote can advertise their offerings to increase their customer base. And that is why, programming languages and platforms are used to develop responsive websites and applications. Statistics shows that 80% of top 10 million websites use PHP programming language which also include Facebook. It is one of the most popular backend Technologies web development framework which is currently being utilised. There are many reasons which states why you should learn PHP development. Some of the reasons are mentioned below which you can refer to take better and informed decision about your career.
PHP is an easy to learn and used programming language which makes it easier for the beginners to get started with it. It does not require any additional knowledge in programming and does not have any Complex coding criteria.
PHP is highly flexible programming language which can easily solve issues using various technique. It is also less prone to have errors in programming as compared to other programming languages.
PHP has a large community where you can get the support you require. Whenever you are stuck somewhere in PHP programming, you can get help from the community instantly which will help you get out of the complex situation easily.
There are wide range of career opportunities associated with PHP where the PHP developer can earn in high income as compared to other programmers.
The future scope of PHP development is also right due to the introduction of various Framework in PHP along with the requirement for easy development of websites and applications allowing you to have better job security in future.
Even after acquiring beginning level skills in PHP, you will become one of the most important and highly demanding candidates for MNC organisation where PHP developers are required for various purposes.
These are more than enough reasons for anyone who are willing to enter into the web development field to opt for PHP programming. And therefore, to start in the field, you can attend our basic and cool to development training in Noida. If you have more questions about the PHP course, you can reach us at our phone or visit our centre and we will be glad to help you.
Course Duration: 20 HRS with Highly Skilled Corporate Trainers (Basic/Core PHP Training for Modules – Weekdays / Weekend
SLA Consultants Noida – Basic/Core PHP Certification Training Delivery Method:
Web / Desktop Base.
Instructor-Led Classroom Sessions.
Presentations/Demonstration/Practicals of concepts.
Handouts/Assignments/Real-time Exposure to work on Clients.
NOTE: Classes Are Also Available On Module Basis
Basic PHP Programme Modules
Basic & Core PHP Modules (with 2 Projects)
Find the Basic PHP course details below.
Duration of Module
Basic PHP Course Module
Basic PHP Course Duration
Basic & Core PHP
20 (Hours)
Batch Timings
| Basic PHP Course Schedule | Basic PHP Course Timing |
| --- | --- |
| Monday to Friday | 8:00 AM – 10:00 AM |
| Monday to Friday | 10:00 AM – 12:00 PM |
| Monday to Friday | 2:00 PM – 4:00 PM |
| Monday to Friday | 4:00 PM – 6:00 PM |
| Saturday/Sunday | 8:00 | 12:00 | 2:00 | 4:00 |
| Sunday | 8:00 AM – 10:00 AM |
| Sunday | 10:00 AM – 12:00 PM |
| Sunday | 2:00 PM – 4:00 PM |
| Sunday | 4:00 PM – 6:00 PM |
Download Basic PHP Course Brochure