Python Data Science Training ▷ 100% Job for Any Graduate ▷ SLA Institute Noida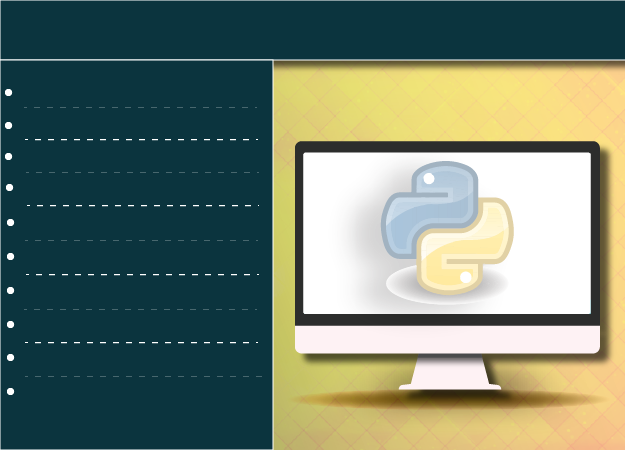 Python Practical Training Course
Programming with Python
Flow Control
Sequence Data
Functions
Error & Exception Handling
Modules
Importing & Exporting Data
Data Manipulation
Data Analysis
Data Structure & Regular
Expression
Python
Python Training Course in Noida
Python is a high level general purpose programming language which is used for developing graphical user interface applications, web applications and websites. It is an open source and object oriented programming language which is easy to understand and learn as compared to other languages such as C and C++. It is currently one of the most popular machine languages used by Business organizations all over the world due to its high performance and flexibility which is excellent for web development.It was designed by Guido Van Rossum in 1991, and since then it has come a long way as a flexible and state forward programming language for developing small and large applications. It usually emphasizes on readability, reusability and using white space. Today, Python is utilized for various purposes which include debugging, web development, web programming, development of Desktop applications and websites. The language helps the user to focus on core functionalities of applications and its simple Syntax makes it a lot easier for the user to keep the code readable and software maintainable. The Python programming language is a cross platform language which means it supports all the major platforms and Systems and has a robust standard library along with frameworks and tools making it the first choice for most of the aspiring programmers and web developers. If you also want to lead a career in the web development field, then learning Python programming language can offer you enormous benefits in your career. SLA consultants Noida provides high quality and job oriented Python training course in Noida to the Aspiring candidates who have been looking to learn or enhance their skills in Python programming. Our industry experts have intelligently designed the course content of python certification program Noida after analysing the current requirements of business industries allowing the participants to become a full-fledged professional in the field and fulfill all the requirement at ease.The certification course will introduce the learner with the basics of Python Programming environment which include fundamental Python Programming techniques such as reading, lambdas and manipulating csv file along with numpy library. The training course will also highlight various advanced skills suggest cleaning technique and data manipulation with the help of Python Pandas data science library and introduce the student with the extraction of data frame and series as Central data structure for data analysis.The training course is specifically designed for beginners and working professionals to help them enter into the field of web development by learning popular machine language and helping them extend their understanding and knowledge of Python programming to achieve job growth in their career. Anyone can attend the Python training course Noida at SLA consultants Noida if they have a graduation degree in IT field. Although, some knowledge of programming can prove to be highly beneficial in the course, but not mandatory.And hence, after completing your graduation in IT field, if you want to learn and master Python programming language and become a professional web programmer, then you can attend our specialised and industry focused Python training course Noida as soon as possible.
The Python training course Noida covers a wide range of topic which includes programming with Python, flow control, sequence data, functions, error and exception handling, modules, importing and exporting data, data analysis and data manipulation, the data structure in a regular expression and much more. The learners will get fundamental knowledge of important toolkits known as Pandas in Python for data processing and cleaning and learn how to read data into data frame structure. Furthermore, the candidates will get to learn about data science, python libraries and how to merge data frames in order to generate summary tables and grouping of data into logical pieces. With the help of highly equipped and modern life facility provided at SLA consultants Noida, the participants will receive an understanding of scales of data along with discussing issues with developing metrics for analysis. The students will also get to learn a variety of Statistical Techniques such as sampling, distribution and T-test where they will engage in Real world data cleaning activity and give evidence for or against a given hypothesis. Various live projects and assignments will be provided to the participants to deliver on data science which will test their knowledge of merging, cleaning, testing and manipulating data.The internal training course is highly flexible and can be completed within 45 hours or one month. After successful completion of python training course Noida, all the students will be able to develop web applications, GUI based applications, software development application, games and 3D applications, websites, perform network programming, and much more on various platforms due to its compatibility. It will allow the user to run the code on multiple platforms which can be executed without recompiling which will help the developer to save time in development. In the process of database management, the participants will be able to easily access data from database using Python and can easily customize the interface of various databases is such as Oracle, my SQL, Microsoft SQL server, and other databases.
The course curriculum of the Python certification program Noida is highly updated as per the business requirements and is taught by some of the best industry experts with over 10 to 15 years of experience in the field. They will deliver real time practical training session with proper workshops and handouts to help the candidates gain hands-on experience and working knowledge of using Python in real world. Soon after successful completion of the training, all the participants will receive valid certification in Python Programming that will prove their worth to the recruiters and build the resume during the interview. It will help them to easily attract the attention of the recruiter and gain competitive edge over other candidates. At last, 100% job placement support will be given to each of the participants which include conducting mock interviews and providing them personality development training so that they can clear any job interview in the first attempt. They will also be sent to various reputed Agencies where job interviews are being conducted for Python Programming and web developers until they are selected. Therefore, if you have made up your mind to enter into the field of web development, then you can attend our specialized Python training course Noida and kick start your career after graduation. For more information regarding the course or our Institute, please visit our office in Noida.
Python is an open source and general purpose programming language which means it can be utilized for developing almost anything with the help of right tools and Library. It is one of the fastest growing and widely utilized programming languages in the current business world due to its ability for backend web development, scientific computing, data analysis and artificial intelligence. It is considered as the first choice for most of the web developers as it can be used to build productivity tools, desktop application, games applications, and much more. Since its emergence in 1991, Python programming language has grown over time and become one of the most popular scripting languages.Still, if you are confused with whether you should learn Python or you should go with any other programming language to pursue your career in the web development, then please refer to below mentioned points to make a better and inform the decision.
Python programming language is highly flexible and easy to learn and use as compared to other programming languages. It has a very few lines of codes making it less prone to error and bug. It can easily be debug and is highly maintainable. Furthermore, it is also highly readable having a simple syntax which allows the user to program without writing additional codes.
There is a huge demand for professional python developers in the market, a specialist in the data science field. Python can easily be integrated with various web applications and carry out tasks that need machine learning. The increasing requirement of big data has also increased the demand for Python developer and data scientist.
Python is extremely popular among big organizations and MNC which utilizes the high level programming language for their own use. For instance, Uber, Google, PayPal, Facebook, Netflix, Reddit, Dropbox, Instagram, and others utilize Python in their development and testing process.
Python also consists of huge community online where you can get instant support on almost every level. This means anywhere in your career if you are stuck with any doubt or difficulty in Python programming, you easily get support in real time on online forums due to its massive popularity and carry on your work with ease.
At last, there are Expendables career opportunities associated with learning Python programming language along with exceptional pay scale. In the international market, the average salary of a professional Python developer is around $94000 per annum. In the Indian market, a Python developer can easily earn around 5 lakh to 10 lakh per annum as per their experience.
These are some of the major reasons why acquiring skills in Python Programming can prove to be beneficial for your future career. If you have more doubts regarding the scope and career opportunities of Python programming, then you can consult with our administrator by visiting our office.
Course Duration: 45 HRS with Highly Skilled Corporate Trainers (Python Training) for 11 Modules – Weekdays/Weekend
SLA Consultants Noida – Python Certification Training and Delivery Method:
Web / Desktop Base.
Instructor-Led Classroom Sessions.
Presentations/Demonstration/Practicals of concepts.
Handouts/Assignments/Real-time Exposure to work on Clients.
Python Programme Modules
Python Practical Training Modules
Find the course details below.
Duration of Module
| Python Course Module | Course Duration |
| --- | --- |
| Python | 45 (Hours) |
Batch Timings
| Python Course Schedule | Course Timing |
| --- | --- |
| Monday to Friday | 8:00 AM – 10:00 AM |
| Monday to Friday | 10:00 AM – 12:00 PM |
| Monday to Friday | 2:00 PM – 4:00 PM |
| Monday to Friday | 4:00 PM – 6:00 PM |
| Saturday/Sunday | 8:00 | 12:00 | 2:00 | 4:00 |
| Sunday | 8:00 AM – 10:00 AM |
| Sunday | 10:00 AM – 12:00 PM |
| Sunday | 2:00 PM – 4:00 PM |
| Sunday | 4:00 PM – 6:00 PM |