Zend PHP Framework Training Course in Noida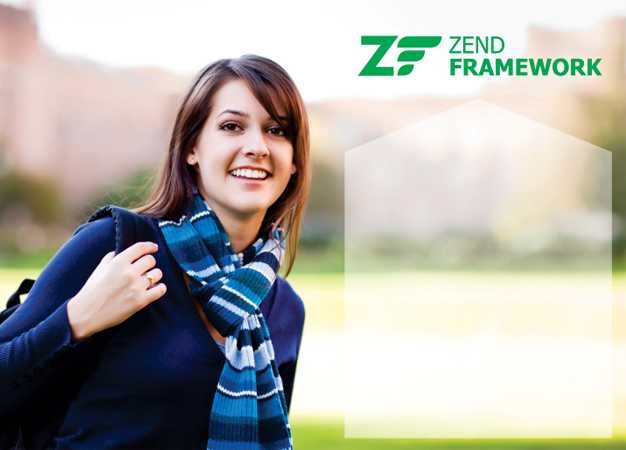 Live
Practical
Certification
Training
Zend PHP Framework Training Course in Noida
PHP Zend Framework is an open source and Object-oriented web or mobile based application framework used in PHP. This framework is also referred to as 'component library' as it contains various loosely paired components that can be used independently. Zend Framework provides an Advanced MVC implementation used to build a basic structure for your web or Mobile Applications. MVC stands for Model-View-Controller – a term used for describing a standard in the design of Web Applications. Model is the part of the application defining the basic functioning behind sets of abstraction. The model includes the definitions of some business logic and data access routines. The view is used to define what exactly presented to the users. Normally, Views gather data from the users. In this, you will find HTML markups in your MVC apps. The controller works as a binding component for the whole pattern. It manipulates models and decides which view should be displayed based on the requests of the user and various other factors. Then, it passes along the data needed by each view or passes the control over another controller. It is highly recommended that controllers should be kept as skinny as possible.
Zend Framework is also defined as the collection of PHP packages with more than 300 million installations. This framework is used to build highly interactive web applications using PHP programming language. It provides purely object-oriented code with the use of an expanded spectrum of language features. Majority of top MNCs like Google, Microsoft have their partnership with Zend in order to offer interfaces to web services or several other technologies.
The SLA Consultants Noida supports emerging programming languages and web development frameworks like Zend PHP that can benefit the students. PHP Zend Framework training course offered by SLA will help candidates to get essential knowledge about Zend PHP framework to become a highly-skilled PHP developer. If you want to enroll in the Best Zend PHP Course in Noida, then you must join this PHP Zend Certification Course at SLA Consultants Noida.
SLA Consultants Noida has designed professional-level Zend Framework Training for both fresher and experienced candidates who are aspired to look their career in the best MNCs of the industry. During Zend PHP Training Course, candidates will learn about Zend Framework 2, MVC and design pattern, Event Managers, Zend Infrastructures, Controllers, Internalization, Authentication and Access, Security, Web Services, and Zend Databases and Mail. Best Zend PHP Certification Program is mainly divided into 10 modules – each has something for you to learn. After completing all the modules, candidates will be provided with an Industry-Accepted Certification in Zend PHP Framework. Anyone with basic knowledge of PHP can join this Zend PHP Course. However, a little knowledge of CSS, HTML, C++, C, Java, and other programming languages would be great for joining PHP Training Course.
Zend PHP Training Course will allow students to gain in-depth knowledge of all the essential concepts that are required for a PHP developer to develop a highly-interactive and reliable web application. During Zend PHP Course, students would be working on a real-time project, getting timely assignments, and interacting with many clients under the supervision of their instructors. The updated study material, handouts, and timely practical test series will help candidates to know their hidden potential and unfold their skills in programming. Experienced and Expert Zend Engineer would be guiding the candidates with their live projects, workshop sessions, and creating customized web or Mobile Applications.
After when you have completed your 70% Zend PHP Training, our placement cell team will be providing you complete placement assistance. During this assistance, a couple of interviews will be scheduled for you in the most reputed software companies along with a valid reference. Our dedicated placement would be guiding you throughout this process till placement.
SLA Consultants Noida is amongst the most popular Zend PHP Training Institute offering industry acceptable certification which would help fresher and experienced candidates to up-skill themselves. If you're willing to enroll for this complete duration of Zend PHP Training Course, you can easily visit our office. You can also check out our official website to know about more details of Zend PHP Training Course. The institute is dedicatedly focused on encouraging students to establish a successful career in Zend PHP web development.
Zend PHP Framework can benefit many individuals and Web Development companies by getting their job done flawlessly and effortlessly. Most of its components are workable and routing makes its job hassle-free. You will surely get fascinated by knowing of the most incredible advantages of using Zend PHP Framework for web development. If you are still in doubt with your decision of joining Zend PHP Framework Course, then the following benefits of Zend Framework will make you reach the right decision. Read ahead!
Zend PHP is the most preferable framework by the talented and famous PHP developer working in the industry. They use this framework due to the advantage of speeding up their development processes. Due to this advantage, the projects can be properly smooth. Whenever a developer requires a paginator, it is always available. Even if developers need comprehensive internationalization, no one can stop them. With Zend, you do not need to be hurry to use all the components. You can just add them whenever you require them.
By getting complete knowledge of the working structure of Zend PHP, you can enhance the productivity of your projects. You can use this framework for your benefits. If you use this super tool correctly, you can help your team with getting their job done easily. Even if your project is targeting a large volume of audience, you can use the specialized structure of Zend PHP.
Zend, due to its Multi-Functional quality is now become developer's favorite choice. Many PHP developers tend to use its incredible multiple components that are available in Zend PHP. You can easily use RSS feed, make new forms, manage the resources in Zend PHP Framework. You will love multi-layered functionality of Zend PHP framework.
When you are working with Zend PHP Framework, the concentration will be on an object. The biggest advantage will be reusability of the code. You do not have to redo the same job. Therefore, you will be saving a lot of time.
In Zend structure, you can have many classes available to you. Loading the required part is quite easy in Zend Framework. ZF is decoupled in order to assist the use of parts as distinct libraries. Developers can only use this when they are offering Zend Framework Development services. Zend is totally object based – it uses object-based aspects like inheritance and interfaces. This object mainly concentrates every part elongated more. This allows PHP developers to add many innovative variations. Such customization can be easily done to allow developers to make different functionality.
For fresher candidates, it can be a lot to learn. But, with a complete understanding of Zend PHP Framework, they can make a lot of benefit from it. Zend is the right tool that simplifies the main processing of the project. Make the right use of this excellent tool and deliver the best project.
The demand for highly-skilled Zend PHP developers is rapidly increasing in the top MNCs. Pursuing the Zend PHP Framework Training Course would benefit your career in the most effective manner. You can avail some great job offers and get a good hike on your current salary packages.
Joining SLA Consultant Noida can make learn all the essential concepts of Zend Framework which could help you develop a good web application. If you want to be hired as Zend developer, then joining this Zend PHP Certification Course is the right decision for you.
Course Duration:
30-45 HRS with Highly Skilled Corporate Trainers
PHP Zend Framework Training for 10 Modules – Weekdays / Weekend
SLA Consultants Noida – PHP (Zend Framework) Certification Training & Delivery Method:
Web / Desktop Base.
Instructor-Led Classroom Sessions.
Presentations/Demonstration/Practicals of concepts.
Handouts/Assignments/Real-time Exposure to work on Clients.
Zend PHP Framework Programme Modules
Zend Framework Modules
Find the course details below.
Duration of Module
| Zend PHP Course Module | Course Duration |
| --- | --- |
| Zend Framework | 30 – 35 Hours |
Batch Timings
| Zend PHP Course Schedule | Course Timing |
| --- | --- |
| Monday to Friday | 8:00 AM – 10:00 AM |
| Monday to Friday | 10:00 AM – 12:00 PM |
| Monday to Friday | 2:00 PM – 4:00 PM |
| Monday to Friday | 4:00 PM – 6:00 PM |
| Saturday/Sunday | 8:00 | 12:00 | 2:00 | 4:00 |
| Sunday | 8:00 AM – 10:00 AM |
| Sunday | 10:00 AM – 12:00 PM |
| Sunday | 2:00 PM – 4:00 PM |
| Sunday | 4:00 PM – 6:00 PM |
Download Zend PHP Framework Course Brochure