Software Testing Course ▷ Manual + Automation Testing ▷Free Mobile Testing Course ▷SLA Noida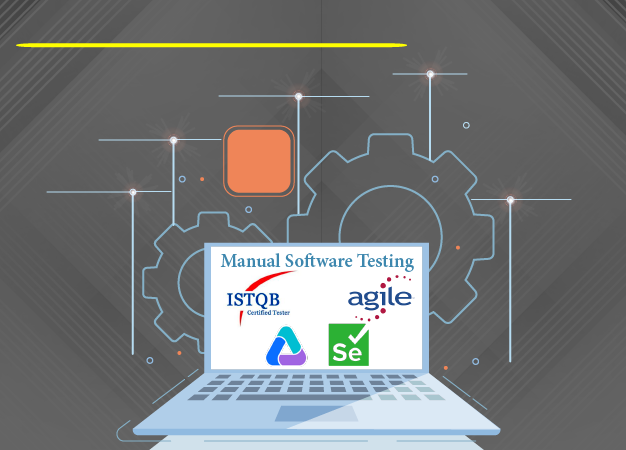 Software Testing Training in Noida
Manual Testing
ISTQB
Advanced Selenium
QTP/UFT
Agile
Methodology
Sofware Testing Institute in Noida
Software Testing Training Course in Noida
Software Testing refers to the process of verifying whether in the developed software is able to offer the expected result to the client which is to fulfill all their requirements efficiently. It is an activity which involves identifying any bugs and error within the program and eliminate them to enhance its quality and satisfy the requirements of the client. Another definition of Software Testing can be referred to as the process of analyzing the software to detect the difference between the current and required conditions and evaluate the features of the software. They are different kinds of Software Testing techniques such as Manual and Automation Testing their Manual Testing is a process where the bugs and error are identified by the Software Testers manually whereas the Automation Testing refers to the process in which Automation Testing tools are utilized for finding the errors and rectifying it. Software Testing is an important element of Software Development Life Cycle (SDLC) and a highly essential process to perform without which the software will be incomplete. There are various Automation Testing tools available which can help the Software Testers easily track and eliminate the errors from the program such as QTP/UFT and Selenium. The Software Testing process is highly complicated which also makes the job of a Software Tester a highly important one. It is their responsibility to ensure that each and every aspect of the software is thoroughly tested before it is delivered to the client. If anyone wants to enter into the field of Software Development and Software Testing then it is highly imperative that the candidate should go through rigorous training in order to acquire the right skills and understanding in Software Testing field. SLA Consultants Noida is a leading and highly accredited Software Testing Institute in Noida who provides reliable and Job-oriented Software Testing Certification Course in Noida. They have been in the market for the last 10 years and provided Automation and Manual Testing Training in Noida to thousands of students successfully who are now placed at very well positions in their career.
Anyone with a graduation degree in IT field is eligible to attend the Software Testing Course in Noida. There are no specific requirements necessary such as web development knowledge to attend the course, however, it can be highly beneficial in the Software Testing Training. The QA Training in Noida is targeted towards both freshers and working professionals who want to become an integral part of the Software Development field or enhance their current expertise in the quality assurance field. The Automation and Manual Ttesting Course in Noida consist of industry relevant and Placement-oriented Software Testing Course content which is highly updated in nature and designed by industry experts while keeping in mind the current business requirements in the market. The Selenium Testing Course in Noida covers a wide range of topics which include Manual Software Testing, ISTQB Software Testing, Advanced Selenium, QTP/UFT Training in Noida, Agile Testing, JMeter, QA Course in Noida and much more. The Software Testing Course in Noida is conducted by highly professional and certified trainers who have over 10 years of experience in the field and guide the students in all the aspects of quality assurance and Software Testing using real-time practical training techniques and live projects and assignments that offers the attendees hands on experience and in depth understanding of Software Testing within a few weeks. At the end of the UFT Training in Noida, all the participants are awarded with a valid Certification in Software Testing along with 100% Job-placement Assistance with Interview preparation and personality development training that enables the participant to crack any interview in MNC for the Software Testing job profile and lead a promising career. We also provide modern and immensely equipped lab facility along with exceptional and station support with flexible batch timings and backup classes to help the students get a comfortable learning environment. And hence, if you want to acquire a job position which is highly respectable and valuable for the organisation, then you can attend our advanced Software Testing Training in Noida as soon as possible.
The Software Testing Course in Noida provided by SLA Consultants Noida is designed to give valuable and in-depth insight on Quality Assurance and Software Testing to the participant using the most unique and innovative Software Testing Training Course techniques one could ever find in any Software Testing Institute in Noida. The applicant will receive Advanced Selenium Training in Noida, JMeter Training in Noida, Manual Testing Course in Noida, QA Course in Noida and much more in a well-organized manner, enabling them to get the better understanding of the Software Testing process and its importance in the Software Development life cycle. The participants will get an extensive knowledge on different aspects of Software Testing such as static and dynamic testing, Software Testing Life Cycle, Test Management, Java Basics, testNG framework, Error Handling, VB script, WebDriver, agile methodology, and much more. The Software Testing Training in Noida is a dedicated program that help the participants prove their worth during the interview process by becoming an expert professional in Manual and Automation Testing along with becoming familiar with Automation Testing tools such as Selenium, JMeter, agile, QTP/UFT, etc. Upon completion of the Software testing Training, the participants will be able to fulfill the roles and responsibilities of a professional Software Tester which include conducting Automation and Manual Testing to ensure the quality of the software, developing test cases and use cases, reviewing and analysing system specification, developing Essentials test plans and strategies, working with Quality Assurance engineer, reporting of errors and bugs to the development team, helping in troubleshooting issues, conducting post release and post implementation testing, ensuring the quality of the product during the Software Development Life Cycle and much more.
Through the Software Testing Course in Noida, the participants will be prepared to become trained and highly skilled software professional will be able to easily perform and Automate test tools. With Software Test Practical Training Sessions that offers basic and advanced knowledge in several testing techniques, you will be able to conduct Quality Assurance in Software Testing in real life scenarios without requiring any additional training. The QA Training Course in Noida is designed in such a manner that it would provide only industries relevant and Job-oriented knowledge in the field which would expand your Quality Assurance skills and make your professional within a short span of time. The Software Testing Training Program is highly beneficial for Quality Assurance candidates, aspiring software engineers, Software Testers, software Architects, project manager, and anyone who wish to associate with the web development field. The major objectives of the Software Testing Course in Noida provided by SLA Consultants Noida is to help the attendees become a professional Software Tester who possess skills and attributes open expert who is able to fulfill the requirements of the client easily by utilising his or her practical knowledge and experience derived from the Software Testing Training which is based on the current is specific requirements of the business industry. You provide a perfect platform for the candidates you looking to enter into the field of web development and Software Testing after graduation and aiming to become an important and irreplaceable asset for any Software Development agency. We also assist the participants in acquiring a lucrative career with high pay scale and respect in the market allowing them to easily secure a promising job at a reputed agency quickly. Apart from that, our extensive features which are far better from any other Software Testing Institute in Noida such as workshops and handouts, valid Software Testing Certification, professional subject matter experts, 7 days administration support for scheduling and reschedule in backup classes, theoretical and practical sessions and guaranteed job placement assistance also makes the career path of the applicants a lot easier. The entire Software Testing Training in Noida is divided into 9 different modules which can be completed within 110 hours or 3 months depending on the class preference of the student. The candidates can also choose to attend specific modules and not the entire Software Testing Training Program for which the course duration and fee will vary. For more information or to resolve any other query that you might have regarding the course or our Institute, you can visit our official website or give us a call or simply pay as a visit at our IT Institute in Noida where our administrator will be more than happy to serve you.
Software Testing plays a very important role in the software development process due to the fact that it helps in increasing the quality of the software and also ensure that the program performs all its expected operations in an efficient manner. It is one of the most important job profiles in the IT industry along with web developer and candidates in this field are given high value for their knowledge and expertise. Software Testing is also one of the most sought after job profiles where many IT graduates tend to enter into the field of Software Testing. There are various reasons why you should learn Software Testing which we are going to discuss in this section.
There is an excessive demand for professionals of protesters in the market which is continuously increasing. For any individual who is looking for a valuable and high paying career, this is the perfect feel for them as they will be an in demand professional with increased job opportunities and job security in the market.
Software Tester profile is also considered one of the most respected job profiles in the IT industry as the person will be responsible for detecting errors and bugs into the newly developed program and enhance its quality which would help the company increase their reputation by satisfying the requirements of the client.
By working as a Software Tester, you will be collaborating with highly skilled professionals in the field of web development such as quality assurance engineer, software developers and software Architects which would help you enhance your current skills and abilities in the field and grow your career in the better direction.
Software Testing job profile is also very challenging profile which would make your career a very exciting one as you will be responsible for finding numerous problems and bug and solving it using various techniques. It is far better from any other boring jobs which consists of similar pattern and tasks. You will always be on your toes and every day you will learn something new. Apart from that, your work will directly influence the reputation of the company making it a highly significant one as well.
There are different types of Software Testing techniques such as manual testing and automation testing where you will have to utilize different types of tools which is highly progressive and advanced in nature. Working with such high Technology and combination of these would make you a skilled and important asset for the organization.
Software Testing field also has a very strong community which would offer you enormous support during your difficult Times during your job profile. If you ever get stuck at any point in your Software Testing career, you can simply move towards the community for help which you will definitely receive within a matter of minutes.
Apart from respect and recognition, you will also get to receive high compensation as compared to other professionals and peers in the same category. The pay scale offered to a professional Software Tester and quality assurance engineer is in the A class category from the start which continues to grow with experience.
There are many MNC organizations who constantly seek professional Software Testers for a handsome salary package which you can target after finishing your Software Testing training in Noida. And since our 100% job placement assistance, do not have any difficulty cracking the interview at MNC.
There are numerous other job profiles which can pursue after learning Software Testing from a reputed Software Testing Institute in Noida such as software developer, software engineer, quality Assurance engineer, software architect, project manager, and other IT professional. With all these other job profiles to target, you will enjoy incredible job security due to the fact that there is a huge gap between the professionals required and professionals available in the IT industry.
Software Testing is a field which is continuously evolving where both manual and automation testers have been in continuous demand which would result in job growth. There is no scarcity of Software Testing and related jobs in the market and within a matter of years you will reach at top level of your career.
SLA Consultants India is considered as the Top Software Testing Institute in Noida with a highly dedicated faculty and industry specific course content to provide the perfect platform for the aspiring candidates who want to enter into the Software Development field. If after learning about the various benefits of Software Testing, you have made up your mind to become a software tester, then you should not wait anymore and join our specialized and intelligently designed Software Testing Course in Noida and give your career a kickstart after graduation.
Course Duration:
95 – 110 HRS with Highly Skilled Corporate Trainers Manual + Automatio Testing Training for Modules – Weekdays / Weekend
Are you able to answer following questions?
What is SRS, use case, user story & functional specification? Where will you use what?
What is configuration management?
What is Agile, sprint, scrum, product backlog, retrospection, scrum master etc.?
What is agile board & what is a confluence page?
What are estimation techniques?
What is QA & QC?
What are different levels of CMMI, TMM & ISO?
How quality professionals get easily promoted in senior management role?
How to deploy, customize, administrate & use tools like Quality Center, QTP, Selenium IDE, JIRA, TestLink, Mantis, SVN etc?
If you already know solutions of above questions, then probably you don't need this course. However if not, then become a Manual & automation expert with us.
SLA Consultants Noida – Manual + Automation Testing Certification Training Delivery Method:
Web / Desktop Base.
Instructor-Led Classroom Sessions.
Presentations/Demonstration/Practicals of concepts.
Handouts/Assignments/Real-time Exposure to work on Clients.
NOTE: Classes Are Also Available On Module Basis
Software Testing Programme Modules
Manual + Automation Software Testing Training Course
Find the Software Testing course details below. Classes & Course can be designed/customize as per request
Duration of Module
| Software Testing Course Module | Course Duration |
| --- | --- |
| Module 1 – Manual+ISTQB Software Testing | 55 – 60 (Hours) |
| Module 2 – Advanced Selenium | 35 – 40 (Hours) |
| Module 3 – QTP / UFT | 30 – 35 (Hours) |
| Module 4 – Agile Methodology | 20 – 25 (Hours) |
| (Manual+ISTQB) + (Basic Selenium Testing) | 55 – 60 (Hours) |
| (Manual+ISTQB) + (Advanced Selenium) | 80 – 90 (Hours) |
Batch Timings
| Software Testing Course Schedule | Course Timing |
| --- | --- |
| Monday to Friday | 8:00 AM – 10:00 AM |
| Monday to Friday | 10:00 AM – 12:00 PM |
| Monday to Friday | 2:00 PM – 4:00 PM |
| Monday to Friday | 4:00 PM – 6:00 PM |
| Saturday/Sunday | 8:00 | 12:00 | 2:00 | 4:00 |
| Sunday | 8:00 AM – 10:00 AM |
| Sunday | 10:00 AM – 12:00 PM |
| Sunday | 2:00 PM – 4:00 PM |
| Sunday | 4:00 PM – 6:00 PM |
Download Manual+Automation Software Testing Course Brochure
FAQ
Coming Soon