Data Warehouse Training Certification ▷ ETL Testing Course ▷ SLA Institute in Noida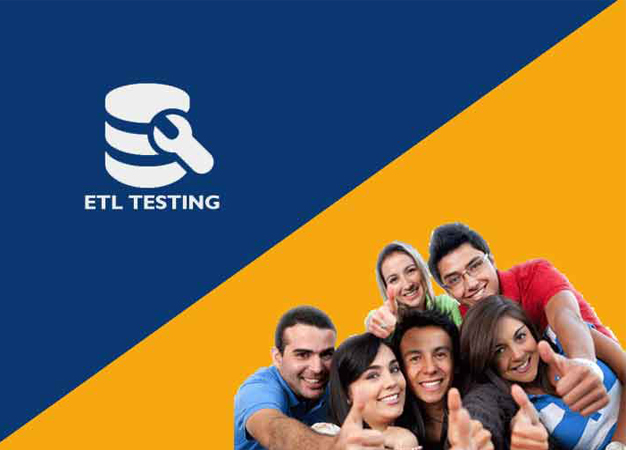 ETL Testing Course in Nodia
ETL Testing Training Course in Noida
Whether it is about an E-Commerce website or High-Scale business organization, managing data in an effective manner is always a very important aspect. Historic data might be useful in creating audit reports or future market predictions. Since, well-established companies have a lot of data to handle, Data Warehousing and ETL process can ensure increased efficiency, profitability and success in data storage systems. A Data Warehouse is a way of centralizing a large volume of data, allowing businesses to integrate their data from various resources or applications into one centralized location. ETL is called Extraction, Transformation, and Loading of data. In this process, data is first being extracted from the multiple resources, transformed and loaded into a well-established database. ETL of data not only includes historical data but also a day to day data processing. Business organizations use ETL Testing so that the extraction and transformation of data are according to the requirements. ETL testing has become a common practice for many business organizations these days. ETL not only consolidates data from different resources and put into better format but also allow users to effortlessly access data without any interference. Data Warehousing is quite beneficial in different business departments like sales, operations, and marketing. After centralizing the data, one can use one common data repository for creating reports or queries. This will help different department teams to produce results aligning with other teams of the organization. ETL Testing just like any other Web App Testing follows a certain set of Testing principles. This kind of Testing has become a basic skill which is required in the market. Therefore, ETL Testers are in high demand in the market. ETL Testing experts are expected to have in-depth knowledge of ETL processes, SDLC, System Performance Testing and SQL queries.
SLA Consultants Noida has designed Industry-Accepted Certification Course for ETL Testing for both fresher and experienced candidates. ETL Testing Training Course will help the students to learn all the required skills to become an expert ETL Tester in the future and land over a good job place. ETL Testing Certification Course is designed for graduates, working professionals, Software Testers, and aspiring individuals that want to learn ETL skills required in the market these days. You can visit our office in Noida to get yourself registered for ETL Testing Training Course.
ETL Testing Training Course provided by SLA Consultants Noida will help candidates learn the implementation of ETL Testing tools to become an expert ETL Tester in the market. As business organizations are growing day by day, the need for a skillful ETL Professional has also grown more and more. At SLA, we encourage candidates to work according to business expectations and seek more growth in the career aspect. Our experienced corporate instructor will help candidates to practice the best extraction, transformation, and loading technologies in order to efficiently integrate day-to-day and historical data into a centralized database. ETL Training Course
covers some important topics like Data Warehousing, Overview of ETL, Database Management System, ETL Testing, types of ETL Testing, Data Completeness, responsibilities of an ETL Tester, and Automation of ETL Testing. During this ETL Testing Training Course, students will learn the importance of data warehousing and ETL Testing in today's market. At the end of ETL Testing course, students will be able to access within right time, enhance the quality and consistency of the data, and improve the system performance in their business organization.
ETL Testing Training Course designed by the experts at SLA Consultants Noida will help learners to expand their knowledge and skills with high aligned of corporate with a couple of time-real, ETL Testing Practical Training Sessions with technical test series. Highly experienced and expert Software Testers with delivering the workshop sessions, project-based ETL Training Course to the candidates who want to gain real-time exposure to work with clients. Students will get regular presentations, assignments, handouts, and admin support during their ETL Testing Training Course. It is quite easier for learners to get their batch classes scheduled and re-scheduled according to their requirements. 40 Hours Training Course with highly skilled corporate instructors can help candidates to enhance their testing skills within a short period of time. Students after completing their graduation degree can go for ETL Testing Certification Course. They will be provided with 100% Placement Assistance so that they can get big job opportunities during their career path. This ETL Testing Certification Course will give your career a massive boost and make you a certified and skillful ETL Testing professional.
Extraction, Transformation, and Loading of data have become quite important for any business organization these days. Data Warehousing, data is being extracted from different resources, transformed by using specific logic or business standards and loaded into the organized database. Since data loading has become very important for any business organization, thus it is quite critical for them to conduct ETL Testing. Whether transformation or extraction of data is as expectations or loaded data is just according to the requirements, ETL Testing has become an important thing to be considered in businesses. ETL Testing has introduced a new Testing niche for Testers who want to pursue their career in ETL and Data Warehousing. If you have correct knowledge and skills about ETL Testing technologies, then you must join the ETL Testing Training Course offered by SLA Consultants Noida. If you are still not sure about choosing ETL Testing as a career option, then the following compelling reasons behind the importance of ETL Testing might help you to make the right decision.
Since more and more business organizations are creating a large volume of data, thus there is an increased need of retaining data in a well-planned and organized way to make it available for business expectations of a company.
Organizations need ETL technologies in order to centralize their day-to-day, historical and other kinds of data into a well-maintained database. Some companies also create their separate database using ETL tools to improve the process of extracting, transforming and loading data.
Many business organizations have gained confidence in their business after effortlessly implementing ETL Testing in a well-planned manner using efficient ETL tools. Usually, this process is executed by highly skilled ETL Testing professionals.
ETL Testing has become a niche skill required by today's business organizations in the market. Candidates can get a lot of career opportunities in this field.
During the process of Data Warehousing, the data is extracted from multiple business departments and this process is consistent. Moreover, individual departments like marketing, sales and more will use the same Data Warehouse for creating reports or queries. This will result in an enhanced, quality and standardized alignment of data with other teams within one business organization.
The use of ETL Testing enables your business to generate a high amount of revenue. The usage of ETL has been around a while; Testers can notice that analytic projects have a noteworthy impact on the finances of the business.
ETL Testing ensures that a large amount of data is being stored accurately and can be rapidly queried. A Data Warehouse is specially built for retrieval and analysis instead of keeping individual records. This kind of Testing ensures increased System Performance and query.
With the implementation of ETL Testing tools on Data, users can access data from different resources as required. In this way, the actual data retrieval process can be done within a small amount of time. Data in a useful format allows easy data access. The use of analysis and query tools in the data warehouse can allow users to spend more time in data analysis and less time in the actual collection of data.
ETL Testing Training Course targets both fresher and working professionals that are passionate about learning some important ETL tools and their implementation in real-time. SLA Consultants Noida is the right place for you to join an Industry-Accepted Certification Course for ETL Testing and become an expert tester in the same field.
Course Duration:
40 HRS with Highly Skilled Corporate Trainers (ETL Testing) for 9 Modules – Available Sessions on Weekdays / Weekend
SLA Consultants Noida – ETL Testing Practical Training & Delivery Method:
Web / Desktop Base.
Instructor-Led Classroom Sessions.
Presentations/Demonstration/Practicals of concepts.
Handouts/Assignments/Real-time Exposure to work on Clients.
ETL Testing Programme Modules
ETL Testing Modules
Find the course details below.
Duration of Module
| ETL Testing Course Module | Course Duration |
| --- | --- |
| ETL Testing | 40 (Hours) |
Batch Timings
| ETL Testing Course Schedule | Course Timing |
| --- | --- |
| Monday to Friday | 8:00 AM – 10:00 AM |
| Monday to Friday | 10:00 AM – 12:00 PM |
| Monday to Friday | 2:00 PM – 4:00 PM |
| Monday to Friday | 4:00 PM – 6:00 PM |
| Saturday/Sunday | 8:00 | 12:00 | 2:00 | 4:00 |
| Sunday | 8:00 AM – 10:00 AM |
| Sunday | 10:00 AM – 12:00 PM |
| Sunday | 2:00 PM – 4:00 PM |
| Sunday | 4:00 PM – 6:00 PM |
Download ETL Testing Course Brochure