UI Developer Training Course in Noida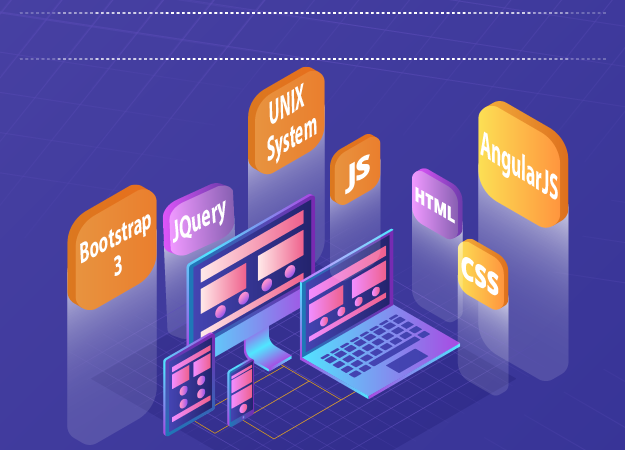 UI Developer Training Course
UI Developer Course in Noida
UI Developer Training Course in Noida
UI Developers develop UI or User Interface through which a user can interact with a website or application. The immensely increasing dependence of many business organizations on the web or Mobile Applications has led major of business organizations or software companies to put their focus on Designing UI to enhance the overall experience of a customer. This increased focus on developing an optimized user interface has led many aspiring developers to pursue a Career in UI Development. The growing popularity of Mobile Application is also one of the reasons behind the demand for UI in web or Mobile Apps. Nowadays, Web or Mobile Apps are available with improved special features like touch controls to provide a great user experience. UI developers major concern is to deliver a functional site to increase online traffic which is only possible when they are able to design an effective or simple UI. This will help them achieve the objective of their web or Mobile Application. A highly skilled UI Developer can develop an impactful UI design which can lead to winning the trust or confidence of the users while ensuring that the website is providing them whatever they need.
As web designing has become an integral part of the software development industry, there is a great scope in the future for highly skilled UI developer. UI designers often work closely with UX designers and other special designer team members. The most essential responsibly of UI developers is to ensure every web page a user will experience during their interaction with the final website will obey the rules of the overall vision built by UX designers. Learning UI development skills via UI Development Training Course could benefit the career of a UI developer in the most effective way. To learn such skills, UI developers can get Certification in UI Designing skills.
SLA Consultants Noida provides real-time project-based, Industry-oriented UI Developer Training Course for both fresher and experienced candidates who want to pursue a Career in UI Development. Certification can help candidates to up-skill themselves as per the standards of Corporate. If you are looking for the Best UI Developer Training Institute in Noida, then you can consider SLA Consultants Noida to get Industry-accepted Certification in UI Designing.
Professional & expert web UI developers have designed this UI Developer Training Course to encourage many aspiring students to accomplish their dreams to become successful UI developers. Whether you are a fresher or a working professional want to upgrade UI designing skills, this UI Developer Training Course can be a perfect choice for you. This training course covers some of the most important concepts like HTML, HTML5, CSS, CSS3, JavaScript, JQuery, Bootstrap 3, AngularJS, and UNIX System Features. 40-45 hours of UI Developer Training Course will help candidates expand their knowledge and upgrade their skills so that they can get the best job in the software development industry. This real-time project-based UI Developer Training Course helps the learners to get more exposure via case studies and various workshop sessions that are conducted by highly skilled and experienced UI developers.
The overall objective of this UI Developer Training Course is to provide 100% Placement Assistance to help candidates so that they can get great career opportunities. After 70% completion of your UI Development Training Course, the placement cell team will start its interview scheduling process. They will schedule your interviews in the most reputed software companies with a valid reference. At SLA Consultants Noida, candidates will be provided with updated study, assignments, presentations, demonstrations, handouts, and series of practical sessions, technical test series, and lab facility.
SLA Consultants Noida is counted amongst the Best UI Developer t Training Course in Noida offering candidates a fair platform to learn all the essential skills that are needed to become a successful UI developer. Candidates will get 7-day assistance from the admin support team to schedule upcoming batch classes or arrange doubt classes. If you don't know how to schedule your classes on weekends or weekdays, then you can feel free to contact admin support team. UI developer programme designed by SLA Consultants Noida is perfect for Web Designers, Web Developers, programming, and other aspiring people who are looking for some great job opportunities. To get enrolled for UI Developer Training Course, you can visit our office in Noida.
Looking for Industry-accepted UI Developer Certification Course with practical sessions and live projects? SLA Consultants Noida can be the right place to practice, where you can upgrade your skills and learn the fundamental concepts of UI Development. UI Developer Training Course at SLA Consultants Noida is divided into nine modules, each covering the most important concepts that a skilled UI developer must know. Practical sessions and real-time projects will help candidates to work within the deadlines and great accuracy which is extremely demanded these days in the software development industry. This UI Developer Training Course will help you play with the latest and trendiest technology and candidates will learn about multi-tasking, working with Events, Expressions, and two-way binding in AngularJS. Candidates will also learn HTML Manipulation, UI, Event, and Document Traversal in JQuery. Candidates will also be learning about other languages like CSS, CSS3, JavaScript, and features of the UNIX System.
Nowadays, UI Developing is something on which every software company is focusing on. Invariably, more and more web designers or engineers are choosing UI development as a career. This will help them have the advantage to make their portfolio more interactive and stronger. UI Development has turned out to be the most popular and profitable career option these days. UI gives an easy way to quickly build customer relationships and a solid service presence online. In UI Developer Training Course, we'll be guiding our students to focus on those technologies and techniques that will deliver a unique User Interface to your customers and direct you to a sophisticated advancement. By the time you finish your UI Development Training Course, you will surely get a great exposure to work with clients. You will learn to develop your own UI themes, layouts to use for interface discussion layers for the device like phones, tablets, computers, and the internet.
After the completion of UI Developer Training Course, each student will be provided with a certification for UI development. This UI Developer Certification would help candidates to get highly paid job offers in the technology industries. SLA Consultants Noida provides 100% Placement Assistance for the candidates to help them land their dream job. Placement team will schedule a couple of interviews in the best Software Development companies for the candidates. SLA Consultants Noida has a dedicated team of professional trainers with more than 10 years of experience, focusing on individual projects and practical training approach. We focus on making your UI Deneloper Training Course easier by giving them real-time projects experience.
Choosing SLA Consultants Noida for pursuing UI Developer Training Course can be the best decision for your future. You will be able to design interactive web and Mobile Applications for your customers and work for enhancing the functionality in your website or Mobile App for better user experience. This UI Developer Training Course is suitable for fresher, web designers, freelance, entrepreneurs, and all those candidates who are aspired to make a successful UI designing career. Visit the office of SLA Consultants Noida or call them to get your name registered for UI Developer Training Course.
Course Duration:
40 – 45 HRS with Highly Skilled Corporate Trainers (
UI Web Developer
) for Module – Weekdays / Weekend
SLA Consultants India – UI Web Developer Certification Training Delivery Method:
Web / Desktop Base.
Instructor-Led Classroom Sessions.
Presentations/Demonstration/Practicals of concepts.
Handouts/Assignments/Real-time Exposure to work on Clients.
UI Developer Programme Modules
UI Developer Live Training Course
Find the course details below.
Duration of Module
| UI Developer Course Module | Course Duration |
| --- | --- |
| UI Web Developer | 40 – 45 Hours |
Batch Timings
| UI Developer Course Schedule | Course Timing |
| --- | --- |
| Monday to Friday | 8:00 AM – 10:00 AM |
| Monday to Friday | 10:00 AM – 12:00 PM |
| Monday to Friday | 2:00 PM – 4:00 PM |
| Monday to Friday | 4:00 PM – 6:00 PM |
| Saturday/Sunday | 8:00 | 12:00 | 2:00 | 4:00 |
| Sunday | 8:00 AM – 10:00 AM |
| Sunday | 10:00 AM – 12:00 PM |
| Sunday | 2:00 PM – 4:00 PM |
| Sunday | 4:00 PM – 6:00 PM |
Download UI Developer Course Brochure