Selenium Course ▷ Best Automation Testing Classes ▷ Live Projects ▷ SLA Institute in Noida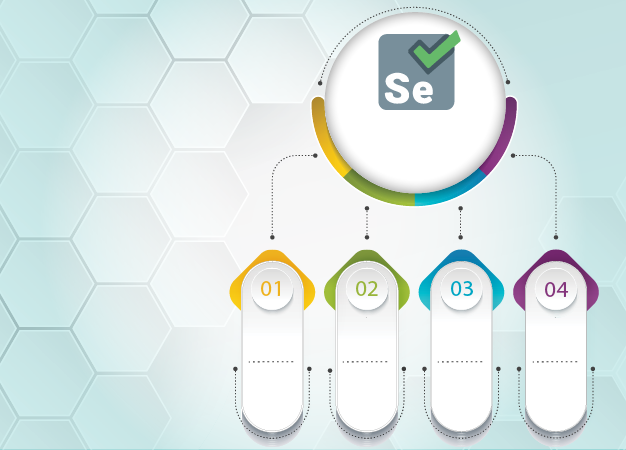 Advanced Selenium
Testing Training Course
Selenium
Testing
Java
Basics
XML
Files
XLS
Handling
JUNIT
ANT
Selenium
IDE
Web-
Driver 2
Data-Driven
Framework
Web-
Driver 3
Advanced Automation Selenium in Noida
Advanced Automation Selenium Testing Training Course in Noida
Selenium is an open source and extremely powerful tool which is used for automating web based applications. This Automation Testing tool supports the most famous languages like Ruby and Java. Invariably, Java is the most widely used language in Selenium, contributing the most in creating a new revolution in the automation testing industry. This powerful tool provides relevant control over Automated Testing using some brilliant frameworks like Selenium WebDriver. Selenium can run against almost every extensively used browser. It is compatible with browsers like Google Chrome, Firefox, IE, Safari and more. Selenium has managed to gain an immense popularity amongst many famous companies. Benefits of using this automation testing tool, its diverse capabilities and contribute to reducing the cost of Automation Testing are some of the reasons behind the huge demand for Selenium. This has become a cost-free approach in automation testing that many companies are interested to adopt.
Finding an expertise in Advanced Automation Selenium Testing can be a bit of task. Many software companies are migrating to this regression testing solution but they do not have an expert who can dedicatedly work on this powerful automation testing tool. Similarly, it is also quite challenging to find the right Software Testing Training platform for Advanced Automation Selenium Testing Training. The SLA Consultants Noida has come up with Selenium Testing Training Course in which learners can have a deep understanding of the advanced level concepts of Selenium. Each topic related to Selenium Training Course will be focusing on delivering a quality solution so that learners can become experts in Selenium. Advanced Selenium Testing Course is an ideal choice for both fresher and experienced candidates who want to pursue their career in Automation Testing industry.
Advanced Selenium Testing Training in Noida targets various manual testers, QA testers, fresher and passionate individuals with the Non-Automation Testing background. This Selenium Testing Course in Noida is designed by the most Professional and Expert Software Testing trainers with more than 10 years of working experience. After getting Certification in Advanced Selenium Testing, candidates can apply for the job in a reputed software testing company. Automation Selenium Training Course is divided into 11 modules, including Selenium introduction, Java Basic Concepts like variables, functions, constructors, OOPS and exception handling, File Handling, XML File, XLS Handling, JUnit and ANT, TestNG Framework and Reports Generation, Selenium IDE, Web Driver2, Data Driven Framework, Page Object Model, and Web Driver3. After 70% completion of Selenium Testing Training, our dedicated team offers 100% Placement Assistance to the learners. Our placement cell team will assist learners in mockup interviews that are conducted by corporate professionals. Our team will schedule interviews along with relevant reference in the most reputed software companies. The students will be provided with technical assignments, aptitude test papers, and assistance with their resume building. After getting a Certification in Advanced Selenium Testing, candidates can look some great job profiles in the Software Testing industry.
During Advanced Automation Selenium Testing Course, learners will be provided with instructor-led classroom sessions, presentations, handouts, updated study materials, real-time work experience with clients and workshops. The certification will be provided at the end of the Advanced Automation Selenium Training Course, benefiting both fresher and experienced candidates to work in the highly-competitive corporate world. Candidates can also 7 days assistance for scheduling or re-scheduling batch classes at SLA Consultants Noida. Highly skilled corporate trainers will be delivering the workshop sessions and teaching students through real-time and Advanced Selenium Practical Training with thorough case studies. Our Advanced Selenium Training Course is designed for graduates, software testers (fresher and experienced) and those aspiring candidates that want to pursue a Career in Advanced Selenium Testing. Our corporate level Advanced Selenium Testing Training Course will help learners to get an exposure to work with clients, preparing them to stand out in the highly competitive corporate world.
Selenium is quite expandable and flexible testing tool providing a result-oriented approach. In fact, this is one of the Best Software Automation Testing Tools available for professional software testers in the industry. The scope of Selenium Testing Training is unexpectedly vast for all highly-skilled professionals. Testing automation developers transform the written test cases into automation scripts. This automation will need some relevant programming language knowledge, such as C, C++, Java or Perl. The introduction of model-based testing has increased the business opportunities for many skilled testers. The evolving trend of test automation is growingly varying, and selenium is managing its way for better functional the testing at the beginning development stages. The web is continuously undergoing several changes in order to maintain and change the requirement of Automated Testing. Selenium supports every browser available these days. Advanced selenium is a detector tool for both mobile and PC browser automation and it is known to be a web standard which is supported by all browsers.
Selenium Automation Testing has managed to be on top in the marketplace. Being open source and powerful software, more and more candidates are interested in Selenium Testing Training. This innovative testing tool has a vast scope and its future is as brighter as other tools emerging to support Windows and Linux. The future offers countless flourishing opportunities for qualified testing professionals and engineers. If you are looking for a genuine training platform offering quality Advanced Selenium Testing Certification Course, then SLA Consultants Noida is the right place for you. Here, the candidates will get Automation Testing Training Course in the most professional manner so that they can have complete clearly about Selenium web driver frameworks. The Advanced Selenium Training Course in Noida will help candidates to gain required Software Testing skills to provide a quality product without any hassle. Candidates will not only get a chance to enhance their technical skills but also gain some positive attitude to become a perfect software tester. If you have come from a computer science background, then it will be advantageous for you. Anyone who has not come from a background in science or engineering can also go for Advanced Selenium Certification Course. It will also help candidates get hands-on experience regarding a real-time project as a part of this certification.
Compensation for professional Software Testers varies from one company to another. Software Testers also get additional benefits like health insurance, bonuses, and gratuity. Moreover, in other countries, these professionals get a brilliant salary. Career progression of a software tester often varies from country to country. It will depend on the working experience and skills of the employee. Test automation professionals and companies can find some amazing opportunities in the market of Big Data, API Testing, and Mobile Testing. Join SLA Consultants Noida and experience great learning environment created by the dedicated team of SLA.
Course Duration:
35 – 40 HRS with Highly Skilled Corporate Trainers
Selenium Training for 11 Modules – Weekdays / Weekend
Do you know the solutions of following?
How to design automation frameworks? What are the key considerations, while designing an automation framework?
What are the different automation methodologies?
How object identification works in Selenium and other functional automation tools?
How to build small utilities that will ease your day to day work and distinguish you from other professional.
How build and code management work for Selenium? How maven works for Selenium?
Do you want to just record and playback or want to be a code bee?
How to install, customize and use different tools for Selenium such as Selenium IDE, Web-driver, Eclipse, Maven etc?
What you want to learn, automation or a specific tool such as Selenium or QTP?
If you already know solutions of above questions, then probably you don't need this course. However if not, then become a Selenium and automation expert with us.
SLA Consultants Noida – Selenium Certification Training Delivery Method:
Web / Desktop Base.
Instructor-Led Classroom Sessions.
Presentations/Demonstration/Practicals of concepts.
Handouts/Assignments/Real-time Exposure to work on Clients.
Advanced Automation Selenium Testing Programme Modules
Advanced Selenium Module
Find the Advanced Automation Selenium Testing course details below.
Duration of Module
| Selenium Testing Course Module | Course Duration |
| --- | --- |
| Advanced Selenium Automation Testing | 35 – 40(Hours) |
Batch Timings
| Selenium Testing Course Schedule | Course Timing |
| --- | --- |
| Monday to Friday | 8:00 AM – 10:00 AM |
| Monday to Friday | 10:00 AM – 12:00 PM |
| Monday to Friday | 2:00 PM – 4:00 PM |
| Monday to Friday | 4:00 PM – 6:00 PM |
| Saturday/Sunday | 8:00 | 12:00 | 2:00 | 4:00 |
| Sunday | 8:00 AM – 10:00 AM |
| Sunday | 10:00 AM – 12:00 PM |
| Sunday | 2:00 PM – 4:00 PM |
| Sunday | 4:00 PM – 6:00 PM |
Download Automation Selenium Testing Course Brochure