J2EE Frameworks – Spring Training Course in Noida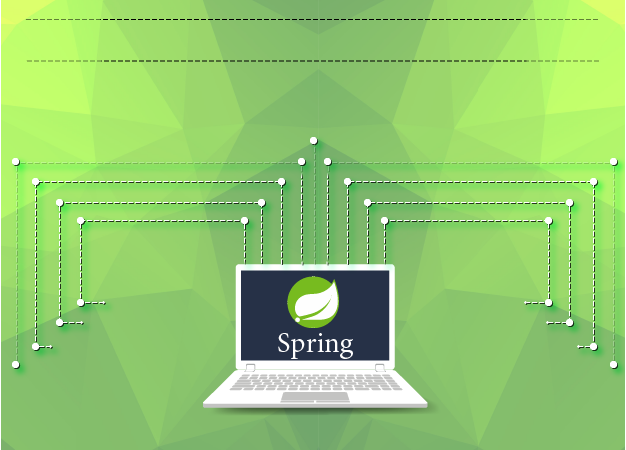 J2EE Spring Framework Training Course
Object Relational Mapping Integration
Spring Web MVC
IOC Container
Spring DAO
Aspect Oriented Programming
Spring Security
Spring Web Flow
Spring-JSF Integration
Transaction Management
J2EE Frameworks (Spring) Course in Noida
J2EE Frameworks – Spring Training Course in Noida
J2EE Spring Framework is a lightweight and open-source application framework for the Java platform. You can also define it as a framework of frameworks as it also supports some of the other frameworks like Hibernate, Tapestry, EJB, JSF and a lot more. In general, any framework can be defined as a structure wherein you can find the solution of technical issues or problems. Spring Framework was developed by Rob Johnson in 2003 with the purpose of making Java EE application development easier or hassle-free. Spring Framework is also known as an inversion of control container for Java framework. The core features of Spring Framework can be used by almost any Java app, but there are some extensions available for developing web apps on the top of the JAVA EE platform. Invariably, Spring Framework has become a famous addition to the Java community and become accessible even more than EJB – Enterprise JavaBeans model. Some major advantages of Spring Framework include predefined templates, loose coupling, easy to test, lightweight, rapid development, great abstraction, and declarative support.
In addition to this, the Spring Framework has a brighter future ahead. Spring has become the trendsetter when it comes to the Java programming world. Java developers that are working on an application using Spring Framework can become more productive. Many companies have chosen this framework for web apps, backend development, and enterprise applications. So, if you are planning to learn this J2EE Spring Framework via training course, then it would benefit your career in several good ways. SLA Consultants Noida has covered every important aspect of Spring Framework in their J2EE Spring Framework Training Course. Spring is quite vast and its toolsets are extremely detailed. SLA has committed to providing J2EE Spring Framework course which will help students to grasp the core features of spring within less period of time.
Various Java professionals including freelancers and full-time developers are focused to enhance their knowledge of building Java applications in Spring Framework. This training course is suitable for both fresher and professionals that are willing to learn this framework in a comprehensive way. So, let yourself enrolled for this J2EE Spring Framework Training Course provided by SLA Consultants Noida for a flourishing career.
The Spring Framework has managed to gain great popularity amongst various Java-based frameworks accessible in the Java world. In this J2EE Spring Framework Training Course, candidates will know about core features of Spring Framework, dependency injection or inversion of control, installation of the container, and usage of a container, building beans, injecting dependencies, auto wiring, and bean scope. Furthermore, the students will also be learning about Aspect Oriented Programming, Spring Web MVC, Object Relational Mapping Integration, Transaction Management, Spring Security, Spring Web Flow, and Spring JSF Integration. 20 hours J2EE Spring Training Course will be conducted by our professional and expert Java programmers or developers with 10-15 years of experience in web or Java Development. They will also teach students about the Spring Framework career opportunities and their scope in the industry. Furthermore, students will also get to know why the Spring Framework is more popular than other frameworks.
With the help of this Spring Training Course, students will be able to expand their knowledge with great aligned of Corporate with some technical tests with a practical session to enhance their hidden potential. SLA Consultants Noida provides industry-accepted J2EE Spring Framework Certification course for those aspired candidates who want to up-skill themselves at Corporate. Whether you are a fresher or working professional, this certification course would benefit your career in the most desired way. 100% placement assistance will be provided to all the candidates when have completed their 70% of training course. During this assistance, the placement team will start scheduling interviews for them, helping them to avail great career opportunities. In addition to this, SLA is strived to cater its students with a great learning experience via their J2EE Spring Framework Training Course. Our highly skilled and experienced Java trainers will provide candidates with updated course material, live-project based training, workshop sessions, practical training sessions, assignments, handouts, presentations, and real-time exposure to work on client projects. If you are looking for the best J2EE Spring Framework Training Institute in Noida, then visiting SLA Consultants Noida would be a great idea for you.
Invariably, the latest salary trends of Spring Framework developers and the various job roles for them are quite compelling. As their developers are able to build web-based applications, enterprise Java application, Spring Applications and various other services with great ease, many of the software companies are looking for impressively skilled Spring Application developers. The different Spring Framework job roles available in the market include Spring Java Developer, Spring Application Developer, Tech Lead (spring), Senior Software Engineer and a lot more. As a fresher, these Spring Java Developers can get a good salary. As the experience increases, the Java professionals with upgrade skills will be able to avail some great salary packages. Constantly, the demand for Java professionals with high-skills and knowledge is increasing with time.
J2EE Spring Framework Training Course has the biggest objective of enhancing the skills and knowledge of aspiring candidates who want to pursue their career in Java Spring Framework App Development. Our placement team will help candidates to avail some great opportunities and career paths that are available for highly skilled Spring Framework developers. As we know the reason behind the superiority of this framework over other Java-based frameworks, the salaries of the Spring Framework developers are at great rise and in upcoming years it is going to grow at the higher pace. SLA Consultants Noida provides an excellent Admin Support for all candidates. The admin assistance team will provide at least 7-day assistance for the upcoming batch to schedule or reschedule their classes and also arrange a backup or doubt class as required. The classes can be easily scheduled or rescheduled during weekends or weekdays. The course is divided into 11 modules and the duration of this training course is 20 hours.
So, SLA Consultants Noida encourages their students to avail the best career options in the corporate world and become a professional Spring Framework Developer. J2EE Spring Framework certification course will validate your skills and knowledge in all industries focusing on Spring Framework Development. This certification will add value to your resume and help you land your dream job. Therefore, it is highly recommended to join the best J2EE Spring Framework Training Institute in Noida for this industry-accepted certification course which is designed for fresher and working professionals.
Course Duration: 20 HRS with Highly Skilled Corporate Trainers (J2EE Framework (Spring) Training) for 11 Modules – Weekdays / Weekend
SLA Consultants India – J2EE Frameworks (Spring) Certification Training & Delivery Method:
Web / Desktop Base.
Instructor-Led Classroom Sessions.
Presentations/Demonstration/Practicals of concepts.
Handouts/Assignments/Real-time Exposure to work on Clients.
J2EE Frameworks – Spring Programme Modules
J2EE Frameworks (Spring) Modules
Find the course Duration below
Duration of Module
| Spring Course Module | Spring Course Duration |
| --- | --- |
| Spring Framework | 20 Hours |
Batch Timings
| Spring Course Schedule | Spring Course Timing |
| --- | --- |
| Monday to Friday | 8:00 AM – 10:00 AM |
| Monday to Friday | 10:00 AM – 12:00 PM |
| Monday to Friday | 2:00 PM – 4:00 PM |
| Monday to Friday | 4:00 PM – 6:00 PM |
| Saturday/Sunday | 8:00 | 12:00 | 2:00 | 4:00 |
| Sunday | 8:00 AM – 10:00 AM |
| Sunday | 10:00 AM – 12:00 PM |
| Sunday | 2:00 PM – 4:00 PM |
| Sunday | 4:00 PM – 6:00 PM |
Download J2EE Frameworks – Spring Course Brochure