Java Full Stack Course ▷ 100% Job Guarantee ▷ Free Angular ▷ SLA Training Institute in Noida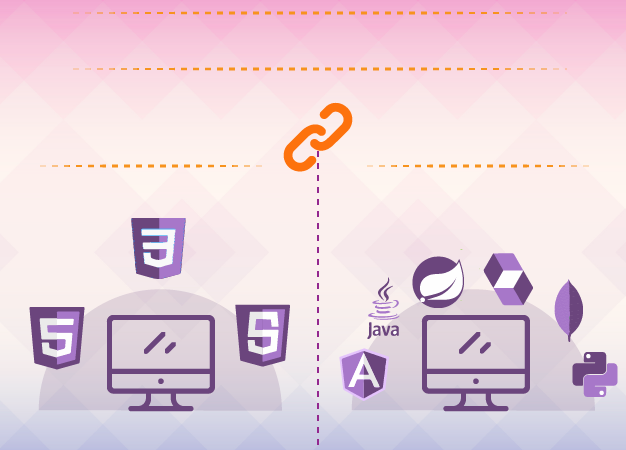 Java Full Stack Training Course
Frontend
Backend
CSS
HTML
JS
AngularJS
Java
Spring
Hibernate
MongoDB
Python
Java Full Stack Course Noida
Java Full Stack Developer Training Course in Noida
Nowadays there is much software. But, Java is one of the leading software languages in the world, many IT professionals are specializing in. Many big companies such as Amazon, eBay, Mozilla, Google hire skilled JAVA professionals. For adding dynamic features to your website JavaScript is the essential building block. This JavaScript language is an implementation of the underlying ECMAScript specification. SLA Consultants Noida is offering Java Full Stack Developer Training Course both Desktop and Web-Based with Instructor-Led classroom sessions where learners will get comprehensive understanding JavaScript. To JavaScript from the ground up is an essential milestone in starting your web development career. Knowledge of JavaScript is a prerequisite for many frameworks on the front-end (Angular, React, Vue.js) and on the back-end side (Node.js).
Globally, Java is widely used across industries. Java is one of the tops used programming language today from server-side applications to video games and mobile apps. This is the reason the demand for Java developers is ever-present in the technology sector. It is one of the top-rated skill-set required in the technology sector. Usually, a full-stack developer in Java needs to know much more than a specific programming language or a framework. The Java developer should essentially be able to create a prototype which is a minimum viable product(MVP) which is deployable. Hence starting from the HTML to backend databases, It is important for the full stack developer in Java to know many things. Easy switching between Front-end and Back-end development, Can write code for entire design structure, can be a cost savior of any company as she/knows both front-end and back-end development.
The software, Java powers more than seven billion devices worldwide. This widely popular programming language forms the basis of many different types of applications. Consequently, it is extremely lucrative to have Java skills on your resume. It greatly boosts the job prospects with roles available across many different sectors. SLA Consultants Noida provides Java Full Stack Developer Training Course in six modules that comprise of Front End(CSS; HTML; JS) and Back End (Java; Angular JS; MongoDB; Hibernate; Spring; Python) in 125 hrs with real-time exposure working on live projects of various clients. SLA Consultants Noida gives full admin support to the learners with assured placement assistance that helps them to grab good career opportunity in various industries as Java Professionals.
SLA Consultants Noida is providing Java Full Stack Training Course covers Front End(CSS; HTML; JS) and Back End (Java; Angular JS; MongoDB; Hibernate; Spring; Python) to be efficient Java Professionals. To mention, one of the most popular programming languages in use today is Java. With Java Full Stack Training Course Programming curriculum, you can learn Java programming fundamentals, best practices, and design patterns. Know the skills you need to design scalable, high-performance Java applications with Spring and Hibernate, or build SOAP and RESTful web services. Java Programming training courses help to develop your programming skills. The JavaScript language basics are easy to learn. However, as the ECMAScript specification evolves, more and more advanced features are added to the language like asynchronous functions, shared memory, and atomic operations.
SLA Consultants Noida gives all-inclusive understanding of JavaScript that enables participants to build a fully functioning web application through a simplistic step from a professional trainer, Java programming language, Learn Java server pages, servlets, and JSTL from the basics to advance, Understand building web forms with JSP, Apply validations on the forms, Use the web template to make the web application incredible, Create-Deploy Servlets & Understand Servlet Lifecycle, Learn how to Handle Session in JSP, Develop Dynamic Web Applications, Learn MVC in JSP, Develop Dynamic Web Applications, Learn MVC in JSP, Forms under JSP and Servlets Collection, Learn the concept related to Generics, Add validations on form data, Adding records into the database, Updating record(s) into database, Deleting record(s) into database, Spring Framework, Web Services – RESTFul API, Spring Boot.
The Java Full Stack Developer Training course by SLA Consultants Noida focuses on the advanced concepts of Java Full Stack Development that include a front-end user interface, AngularJS, Core and Back End-user interface, Java, Spring and Hibernate framework, MongoDB and advanced Python in great detail. Using one of the most profound and 4th generation object-oriented programming language Java, a Full Stack Developer can develop a robust and highly secure web application that would meet all the requirements of the clients. If one master at least HTML5, CSS 3, Bootstrap, AngularJS, SQL & Java, he would become the 'most sought-after' full stack developer.
By the end of the Java Full Stack Developer Training Course offered by SLA Consultants Noida, you will be able to utilize various functions such as CRUD, API, database technology, HTML5, CSS3, JavaScript, web server technologies, RESTful services, etc effectively. If you are also looking to make a career as a web developer then it is highly necessary that you attend high-quality Java Full Stack Developer Training Course provided by SLA Consultants Noida as it would give you all the necessary concepts and skills required to make you a professional web developer.
The programming software, Java is a good precursor to other languages like C#, C++. Learning Java can help you get started with your career in IT. Moreover, learning Java will help you think like a programmer. It gives you the underpinnings of programming and lay a solid foundation. This is why most beginners tend to learn Java first and then move on to other technologies.
Java let's open up many opportunities for your career. It acts as a great skill-set to have as many developer roles in the job market requires proficiency in Java. Mastering Java can help you get started with your career in IT. Huge companies like Bosch, Capgemini, Accenture, Mphasis, PayPal and MindLabs are all hiring Java developers.
Globally, Java Server "Full Stack Java developer" technology is a fast and easy way to develop dynamic and static web content. It can develop components to improve web applications and improve our career prospects as an IT professional.
Java is universally used across industries. Whether it be server-side applications, video games or mobile apps, it is one of the tops used programming language today. This is why probably the demand for Java developers is ever-present in the technology sector. It is one of the top-rated skill-set required in the technology sector. The fame of the Java course is growing as with its scope.
This the ideal solution for both small and medium enterprises. This Certification Training is curated by professionals as per the industrial requirements and demands. This training gives comprehensive knowledge of basic and advanced concepts of core Java & J2EE along with popular frameworks like Hibernate, Spring, & SOA. In this training course, you will gain expertise in concepts like Array, OOPs, Function, Loops.
If you want to build a flourishing career in this field, you can opt for Java Training in Noida. This training equips all aspirants with the necessary skills and expertise, helping them grab a huge opportunity in the corporate world.
Course Duration:
120 HRS with Highly Skilled Corporate Trainers (
Java Full Stack Developer
) for 6 Modules – Weekdays / Weekend
SLA Consultants Noida – Java Full Stack Developer Certification Training Delivery Method:
Web / Desktop Base.
Instructor-Led Classroom Sessions.
Presentations/Demonstration/Practicals of concepts.
Handouts/Assignments/Real-time Exposure to work on Clients.
NOTE: Classes Are Also Available On Module Basis
Java Full Stack Developer Programme Modules
Java Full Stack Developer Modules
Find the course details below.
Duration of Module
| Java Full Stack Course Module | Course Duration |
| --- | --- |
| Java Full Stack | 120 Hours |
Batch Timings
| Java Full Stack Schedule | Course Timing |
| --- | --- |
| Monday to Friday | 8:00 AM – 10:00 AM |
| Monday to Friday | 10:00 AM – 12:00 PM |
| Monday to Friday | 2:00 PM – 4:00 PM |
| Monday to Friday | 4:00 PM – 6:00 PM |
| Saturday/Sunday | 8:00 | 12:00 | 2:00 | 4:00 |
| Sunday | 8:00 AM – 10:00 AM |
| Sunday | 10:00 AM – 12:00 PM |
| Sunday | 2:00 PM – 4:00 PM |
| Sunday | 4:00 PM – 6:00 PM |
Download Java Full Stack Course Brochure
FAQ