PHP Full Stack Course ▷ 100% Job Guarantee ▷ Free Angular ▷ SLA Training Institute in Noida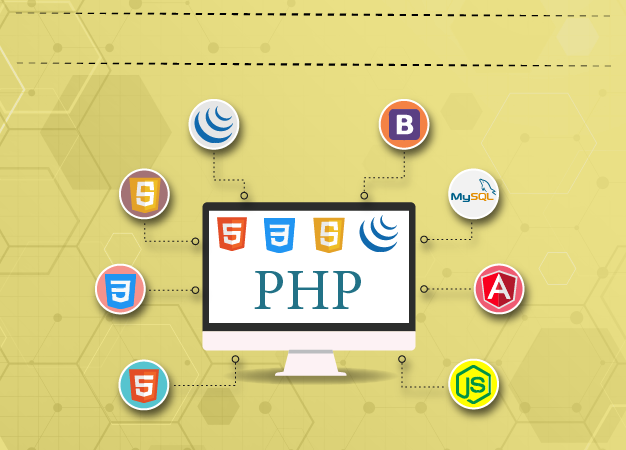 PHP Full Stack Development Training
JQuery
JavaScript
CSS3
HTML5
Node.js
AngularJS
PHP & MySQL
BootStrap
PHP Full Stack Course Noida
PHP Full Stack Developer Training Course
In the past terms like Full-stack, frontend and backend developers have come to be in use. In fact, developers are available in various process streams like Backend, Frontend, Database, Testing, and Mobile Apps. A full stack developer is also known as the backend developer. SLA Consultants Noida is offering PHP Full Stack Developers Training Course from expert instructors who have years of experience in Web Application Development. The Full Stack Developers are developers that design complete apps and websites. Moreover, they work on all facets of development, from frontend to backend, to database and even debugging and testing. In simple words, the developer must understand the app through and through. Generally, Frontend developers are more sought after because of their expertise of not in one but multiple technologies. They can handle all aspects of development, and it can result in a more seamlessly created product. Although, resources to become a Full Stack Developer are limited and only offer sections or just random technologies that you must learn and combine on your own.
SLA Consultants Noida give a complete understanding of PHP Full Stack Developer Training Course in modules that comprise of Frontend UI Part HTML5, CSS3, JavaScript, Jquery, Bootstrap; Backend PHP & MYSQL; AngularJS; Node.js. SLA Consultants Noida provides PHP Full Stack Developer Training Course by web or desktop base with instructor-led sessions. SLA gives training both on weekdays and weekends. The expected duration for PHP Full Stack Developer Training Course is 125 hrs from talented instructors that also gives assistance in placement with the guaranteed interview. SLA Consultants Noida gives certification practical training by means of live projects based on the real-time that gives exposure to the learners to work on clients project. It increases the level of confidence and helps to grab good job opportunity in various organizations as PHP Full Stack Developer.
You can definitely, take your career as a web developer to the next level with this PHP Full-Stack Developer Training Course offered by SLA Consultants Noida where learners turn out to be an skilled Javascript Technologies (front and back-end). They will acquire to make applications that is one of the utmost profitable and progressive web development occupation routes. SLA Consultants Noida introduced this PHP Full Stack Developer Training Course that compiles all technologies in perfect sync to help developers transition from a simple developer to become a Full Stack Developer. Especially, to cater to the changing role of developers and technologies around the world, we have introduced a brand new master course to become a Full Stack Web Developer. At the present time, with the cutting-edge features of expertise, web creators can no longer converted professionals in facets of web development nonetheless here and now essential acquire the complete procedure of web application development from plan to concrete arrangement. As a result, this has introduced a new role for developers – Full Stack Developers. After frontend development, the learner will slowly progress to become to other aspects of development including backend, database, debugging, version control and other essential technologies that are helpful for a developer. Based on requirements you can switch between front and back end development. You can better understand all aspects of new and upcoming technologies.
SLA Consultants Noida PHP Full Stack Developer Training Course will help you in learning in-depth regarding PHP server-side scripting language and you will also learn how to develop solid web applications using PHP. This will give you a complete insight into topics like Laravel PHP Framework, MVC & PDO. Possessing the extensive knowledge of PHP & full stack development essentials you will be able to build websites using Twitter Bootstrap, CSS & HTML. Being a PHP Full Stack Developer you will also write server-side scripts using PHP and MySQL. SLA Consultants Noida gives comprehensive training that helps learners to become proficient in MVC and they can build their own MVC framework. In PHP Full Stack Developer Training Course by SLA Consultants Noida, different technologies and frameworks that learners will acquire are Bootstrap, PHP & MYSQL, CSS3, JavaScript, HTML5, JQuery, Angular JS, Node.js, and Debugging/Version management, etc. As a course aspirant, you will be able to connect with multiple kinds of databases using PHP Data Objects. As a full-fledged PHP full stack developer, you will become an expert in building simple solid web applications. To take up this course a basic knowledge of web designing will be an added advantage. Any person interested in programming & web development can enroll for PHP Full Stack Developer Training Course offered by SLA Consultants Noida.
In order to become an industry-ready hands-on web developer by completing all the related courseware and projects in web application development. Get Certification in PHP Full Stack Developer Training Course and upgrade your career or begin as fresher.
It is useful to do a PHP Full Stack Developer Training Course offered by SLA Consultants Noida as learners will get practical knowledge script software, comprise the hi-tech Stack Languages that are in demand. Broad-based full stack learning is crucial. You will have the best choices when you are proficient in all parts of the stack.
You can be a programmer with CSS, HTML, and Javascript. With Postgres, Oracle and MySQL you can function as a database analyst. With Ubuntu, FreeBSD, and CentOS you are good to go as a System Administrator.
Having multi-skills you can identify the futuristic languages for continuous advancement and helps you get issues resolved quickly. These are prime skills for any employer! Python, Ruby, and languages like JavaScript based frameworks and PHP languages like Mongo DB, Node.js, Angular.js, and Express.js you can be effective as a PHP backend developer.
You will master all the techniques involved in a development project, You can make a prototype very rapidly, You can provide help to all the team members, You will reduce the cost of the project, You will reduce the time used for team communication.
This course is beneficial for a Front end Developer who wants to learn backend programming, A Backend developer who want to learn front end programming concepts, Aspirants who want to turn out to be the PHP Full Stack Web Developers, this practical corporate based job oriented training is very advantageous.
Additionally, mastering HTML and CSS, he/she also knows how a browser is programmed (like using JavaScript, jQuery, Angular, or Vue), program a server (employing Python, PHP, Node, ASP), program a database (utilizing MongoDB, SQLite, SQL). A person who can develop both client and server software is a full stack web developer.
Course Duration: 120 HRS with Highly Skilled Corporate Trainers (Full Stack PHP Development Training) for 6 Modules – Weekdays / Weekend
SLA Consultants Noida – Full Stack PHP Web Development Certification Training Delivery Method:
Web / Desktop Base.
Instructor-Led Classroom Sessions.
Presentations/Demonstration/Practicals of concepts.
Handouts/Assignments/Real-time Exposure to work on Clients.
NOTE: Classes Are Also Available On Module Basis
PHP Full Stack Developer Programme Modules
PHP Full Stack Modules
Find the course details below.
Duration of Module
| PHP Full Stack Course Module | Course Duration |
| --- | --- |
| PHP Full Stack | 120 Hours |
Batch Timings
| PHP Full Stack CourseSchedule | Course Timing |
| --- | --- |
| Monday to Friday | 8:00 AM – 10:00 AM |
| Monday to Friday | 10:00 AM – 12:00 PM |
| Monday to Friday | 2:00 PM – 4:00 PM |
| Monday to Friday | 4:00 PM – 6:00 PM |
| Saturday/Sunday | 8:00 | 12:00 | 2:00 | 4:00 |
| Sunday | 8:00 AM – 10:00 AM |
| Sunday | 10:00 AM – 12:00 PM |
| Sunday | 2:00 PM – 4:00 PM |
| Sunday | 4:00 PM – 6:00 PM |
Download PHP Full Stack Course Brochure
FAQ