Big Data Hadoop Training Course ▷ 100% Job for Any Graduate ▷ SLA Institute Noida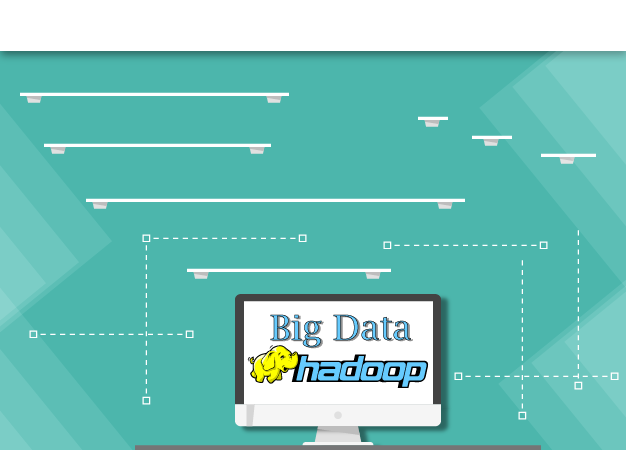 Big Data Hadoop Training Course
Hadoop Distribution File System
Pig
Hive
HBase
Map Reduce & its Features
Data Integration with Sqoop, Talend & Flume
Hadoop Projects & Oozie
Big Data Hadoop Course in Noida
Big Data Hadoop Training Course in Noida
As the name suggests, Big Data refers to the huge amount of data which is unstructured and extremely Complex making it very difficult to store, manage and maintain using the traditional Database Management applications. Big Data involved typical large stock exchange, data mobile phones date, network data, web pages and text data, web logs, social network data, etc in the form of structured and unstructured information. Big Data and Hadoop are not the same but just two sides of the same coin. Big Data is considered as the actual problem for which Hadoop is the proper solution. Big Data Hadoop is the latest trend in the IT environment which is developed by Apache and is an open source application for the purpose of storing data and running application on a variety of Community hardwares. Hadoop offers massive storage of data of any kind and Roses enormous processing is strength with the ability to handle virtually limitless number of tasks or job. Big Data Hadoop is extremely important as it has the ability to store and process a large amount of data quickly and requires low cost investment with high scalability. Anyone who is looking to pursue a Career in the Data Management field must master skills and ability in Big Data Hadoop which is the current need in the business industry. Big Data Hadoop Training Noida is a specialized Hadoop Training Course Noida provided by SLA Consultants Noida which offers the applicants with the platform to learn techniques of handling Big Data by using Hadoop framework in real time. The certification program is designed by industry experts considering the current industry job requirements and help the participant learn Big Data Hadoop along with Spark modules. It is an industry recognized Big Data hadoop Course in Noida which will allow the students to become Hadoop developer and Hadoop administrator along with a professional in Hadoop testing and Analytics. Anyone is eligible to attend the Hadoop Training Course in Noida as long as they have a graduation degree in IT field. The Big Data Hadoop Course in Noida is targeted significantly towards college freshers on business along with current working professionals in the data management field who wants to enhance their current expertise and learn to process Big Data efficiently. The Hadoop Course in Noida will highlight major aspects of data Hadoop which include HDFS, MapReduce, YARN, pig, hive, scoop, flume and much more, and allow the participant to learn industry focused skills in Big Data management that would make them one of the most respected and highly demanding professionals in the current business market. It is a known fact that just having a graduation degree in any field would not help you acquire a high paying job in the field. You will also have to acquire certification which will expand your knowledge and make you an expert. Same can be shared with the Big Data Hadoop Certification Course in Noida which will help graduate students in IT field who wants to pursue a promising career in the Data Management field to learn job oriented skills in handling and processing Big Data using Hadoop framework. Therefore, it is highly recommended for candidate and working professionals world looking to enter into Big Data management field to attend Big Data Hadoop Training Course Noida from SLA Consultants Noida soon after graduation.
Big Data Hadoop Training Course Noida is an industry recognised certification program which will help the participant master the concept of hard work by giving them expert and perform knowledge in Big Data Hadoop fundamentals and advanced concepts including Hadoop ecosystem, Hadoop distribution file system, MapReduce, Pig, Hive, HBase, data integration with Sqoop, Flume and Talend, how do project and Oozie. The certification program will help the student garner required knowledge in Big Data processing life cycle so that they can deliver real time projects in various Industries such as telecommunication, banking, insurance, social media and e-commerce. The participants will also learn to process and analyse large data sets along with data injection provided highly certified and professional instructors with over 10 to 15 years of experience in the field. Upon successful completion of the Hadoop Training Course in Noida, the student will be able to perform all the job responsibilities of a professional Hadoop developer which include understanding all the different components of Hadoop ecosystem and architecture and work with them for storage and resource management, utilising MapReduce along with its feature in Big Data management, inserting information with the help of sqoop and flume, developing database and table, performing Hadoop administration activities which include monitoring, clustering management, administration and troubleshooting, designing, building, configuring and installing Hadoop in the system, performance analysis of large amount of data source and uncover insights, maintaining the security and data privacy, performing high-speed querying, testing prototype and supervising handover to operational teams, looking high performance and scalable web services for data tracking, translating Complex functional and Technical requirements into simple design, etc.
The Big Data Hadoop Course Noida will provide the students with the right platform to learn and master Hadoop framework. The participants will be provided with realtime practical training session under expert supervision and they will also have to work on numerous live projects and assignments to get a better understanding of Hadoop ecosystem. It will help them gain hands on experience in the field along with real world working knowledge of the tool for Big Data processing. The instructors will also conduct workshops and seminars to handle the doubts of the students in real time and make them Adobe Reader professional within a short span of time. Every participant will receive a valid Certification in Big Data Hadoop Training which will help them build a resume and attract the eyes of the recruiters during the interview. The Big Data Hadoop Training will give them a competitive edge over other candidates and help them secure a high paying job soon after completion of the certification. 100% Job Placement support will be provided to the students which include conducting mock interviews and personality development training and sending them for job interviews until they are selected.
There are various database management tools available in the market which is utilized by Business organizations all over the world. However, when it comes to the processing and management of Big Data, these traditional tools may not offer efficient services. Hadoop framework writes and test various distributed system and is highly efficient in automatically distributing information and her across various channels and machines. Big Data Hadoop does not allow on any particular hardware to offer fault tolerance and high availability as it itself has a library which is designed to detect failures and handle it efficiently. Since it is an open source application, it is available for free which is another advantage of utilizing Big Data Hadoop. Today, millions of business organizations are utilizing Hadoop Framework for the purpose of processing Big Data due to its storage and processing speed, fault tolerance, computing power, low cost, flexibility, scalability and compatibility with other database management tools. It can easily be run on any of the platforms such as Windows and Linux. This also makes it the first choice for students and candidates for learning Big Data management in order to pursue a career in the field. If you also want to learn Big Data Hadoop, then please refer to below points which will motivate you to learn the framework more.
Big Data Hadoop is the current requirement of the business industry due to the increasing generation of Big Data in the market. Every business organization needs to handle Big Data which include social media data, network data, real estate data and much more for which Big Data Hadoop professional and Hadoop developer are required.
Big Data Hadoop offers better career opportunities which will continue to increase in the future. It also offers job growth opportunities for the individuals as the demand for data operators and data managers are increasing rapidly in the Indian market.
Acquiring skills in Big Data Hadoop will help you target various job profiles in the fluid such as Hadoop architect, Hadoop developer, data scientist, Hadoop administrator, data manager and much more. Apart from that, you will also not be limited to work in a particular industry as Big Data Hadoop is extensively utilized in the travel industry, retail Industry, finance and Healthcare, manufacturing, telecommunication, media and entertainment, and much more.
Big Data Hadoop also offers a high salary as compared to other professionals in the same field due to its growing demand and the lack of supply in the market. The gap between the supply and demand of the professional Hadoop developer is increasing day by day which will increase the demand along with the salary aspect of the professionals.
Various multinational organizations are continuously seeking professional Big Data Hadoop professional including Google, Facebook, Genpact, Infosys, British Airways, Marks and Spencer, Royal Bank of Scotland and much more. This will provide the professional with the opportunity to acquire a respected and recognized career in the market.
With all these reasons to learn Big Data Hadoop, no wonder students in the IT field are constantly pursuing Big Data Hadoop training course Noida after completing their graduation. If you don't want to fall behind, then attend our high quality and reliable Big Data Hadoop Training Course as soon as possible. For more information regarding the course or our Big Data Hadoop Institute in Noida, you can visit 7 days.
Course Duration:
45 HRS with Highly Skilled Corporate Trainers (Big Data with Hadoop Training) for 8 Modules – Weekdays/Weekend
SLA Consultants Noida – Big Data with Hadoop Certification Training and Delivery Method:
Web / Desktop Base.
Instructor-Led Classroom Sessions.
Presentations/Demonstration/Practicals of concepts.
Handouts/Assignments/Real-time Exposure to work on Clients.
Big Data Hadoop Programme Modules
Big Data Hadoop Certification Training Modules
Find the course details below.
Duration of Module
| Big Data Hadoop Course Module | Duration |
| --- | --- |
| Big Data Hadoop | 45 (Hours) |
Batch Timings
| Big Data Hadoop Course Schedule | Timing |
| --- | --- |
| Monday to Friday | 8:00 AM – 10:00 AM |
| Monday to Friday | 10:00 AM – 12:00 PM |
| Monday to Friday | 2:00 PM – 4:00 PM |
| Monday to Friday | 4:00 PM – 6:00 PM |
| Saturday/Sunday | 8:00 | 12:00 | 2:00 | 4:00 |
| Sunday | 8:00 AM – 10:00 AM |
| Sunday | 10:00 AM – 12:00 PM |
| Sunday | 2:00 PM – 4:00 PM |
| Sunday | 4:00 PM – 6:00 PM |