Python Full Stack Course ▷ 100% Job Guarantee ▷ Free Angular ▷ SLA Training Institute in Noida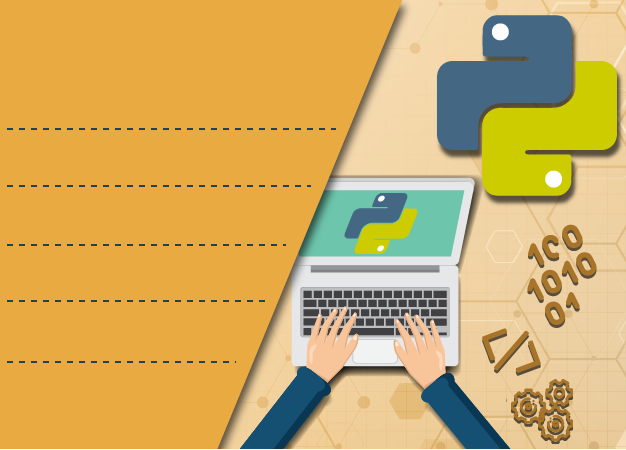 Python Full Stack
Training Course
Core Python
Advanced Python
BootStrap
DJango
Python Full Stack Course Noida
Python Full Stack Training Course in Noida
Generally, Python is a versatile all-purpose high-level language that is used for scientific data and other structured and unstructured data. Expertise in using the Python suite of languages for all applications would mean a full stack Python. SLA Consultants Noida is offering Python Full Stack Training Course both for professionals as well as fresher who want to make their career in web development. Working/Interacting with persistent datastore is what transforms static web pages into powerful and effective web applications. Providing users the ability to create, read, update and delete data is the backbone of the most popular services on the Internet today. The 4th generation programming language Python is object-oriented programming concept which allows the user to develop and execute software more easily and flexibly. A jack-of-all-trades in servers, databases, systems engineering, and facing clients is a full stack developer. SLA Consultants Noida gives all-inclusive Python Full Stack Training Course that includes Front End is the user-interface and needs language experience of CSS, HTML, JQuery, Bootstrap, JavaScript and any display related issues. Back End involves specific languages like Java, PHP, Ruby, Python, and logic or validation issues.
Database deals with the storage of programs, data or queries. Globally, Python is one of the top programming languages requested by companies in 2018 / 2019. Well! If still, you haven't added Python to your programming skillset yet it's now the perfect time to start learning. With Python Full Stack Training Course offered by SLA Consultants Noida, learners will successfully acquire practical knowledge of every essential area of Python that comprises of Core Python, Advanced Python, BootStrap, and DJango. The Python Full Stack Web Development Course is designed from experts in the field of web development from years who provide conceptual understanding by means of real exposure working with clients on live projects. It helps candidates to experience the systematized high-level data structures and a simple but effective approach to object-oriented programming. It must be noted that Python's dynamic typing and splendid syntax together with its interpreted nature, make it an ideal language for scripting and rapid application development in many areas on most platforms. Python lets you cover a wide range of use cases. You will be able to implement command-line scripts, GUI application, and web applications. Moreover, the Python programming language is currently fuelling scientific computing
At present, Python Full Stack is currently one of the most popular and widely utilized high levels and interactive programming language with OOPS concept which is extremely readable and used English wording instead of complex programming codes will advanced syntactical construction. This significant Python Full Stack Training Course is an understanding of Data Analytics, data handling, and manipulation along with predictive analysis using Python programming language. The SLA Consultants Noida Python Full Stack Training Course will help the applicant learn Python programming language with full efficiency and develop accurate programs required by the client. It lends end-to-end Python Programming information to the candidate which gives general knowledge in all the areas which include Network and server, relational databases, Web API, Quality Assurance, specialized training also lets the candidate learn topics such as HTML5, CSS3, JavaScript, Python commands and scripts, variables and components, conditional statement and formatting, sets and tuple, Bootstrap, Django web framework, etc.
SLA Consultants Noida provides Python Full Stack Training Course in modules that comprise of jQuery, Bootstrap 3 and 4, HTML5, CSS3, Document Object Model, Python, DJango Basics, DJango Templates, DJango Admin Customization, Django Forms, REST APIs, User Authentication, and ORM, etc. In SLA Consultants Noida you will learn to create a fully functional web site using the Full-Stack with Django 1.11, how to use HTML to create website content, use CSS to create beautifully styled sites, how to make use of Bootstrap to quickly style sites, Use Javascript to interact with sites on the Front-End, how to use jQuery to quickly work with the DOM, Understand HTTP requests, Create fantastic landing pages, the power of Python to code out your web applications, As a back end DJango can be utilized as complete Models, Views, templates for websites.
After finishing the Python Full Stack Certification Course from SLA Consultants Noida the candidate becomes competent in manipulation, visualization od data, export and import effortlessly. This Python Full Stack Training Course is good for students, aspiring programmers, and working pros who wish a fruitful occupation in the field of programming and augment the proficiency. You will have numerous career opportunities in the Python domain, coming from all over the world. A professional Python Developer, software engineer – Python, data Scientist – Python, backend developer – Python is a great career prospect after completion of Python Full Stack Training Course from SLA Consultants Noida. You can even start freelancing to develop programs on-demand using Python.
The powerful program, Python is considered as one of the fastest programming languages which support many platform and frameworks. This is highly popular among business organizations due to various benefits associated with it which will also be enjoyed by candidates learning Python Full Stack.
It is the most sought after analytical language in the industrial and academic context. Most of the clients are eager to unearth the concealed patterns in their databases and also to accomplish new breakthroughs in the domains of machine intelligence, data sciences, and artificial intelligence.
The Python Full Stack as a powerful artificial language would enable the handler to accomplish entire functions such as program development, data analysis, network implementation, and security related worries. Permitting the handler to be an significant advantage for the corporation.
Python is easy-to-use and simplicity makes it one of the widely used languages for general purpose programming. It has two important features namely code readability and the simplest syntax.
It is quite a friendly programming language with less coding as compared to Java and other programming languages. It is mostly interactive and interpreted a programming language with an object-oriented concept.
It is also portable and can easily support any platform. In India, the average salary of a Python developer is 5 lakh per annum. By learning Python full stack, it can be very beneficial for Aspiring engineers former finance managers, data analyst, business managers, etc.
The scope, job opportunities and growth opportunities in Python programming is increasing rapidly due to its flexibility and improved productivity.
Once you learn one software technology needed for every stack-part, you will be in a position to build your own software and use it to add business value in your job. So, it is always best to do a course since you get hands-on experience.
Course Duration:
90 HRS with Highly Skilled Corporate Trainers (
Python Full Stack Developer
) for 3 Modules – Weekdays / Weekend
SLA Consultants Noida – Python Full Stack Developer Certification Training Delivery Method:
Web / Desktop Base.
Instructor-Led Classroom Sessions.
Presentations/Demonstration/Practicals of concepts.
Handouts/Assignments/Real-time Exposure to work on Clients.
Python Full Stack Programme Modules
Python Full Stack Training
Find the course details below.
Duration of Module
| Python Full Stack Course Module | Course Duration |
| --- | --- |
| Python Full Stack | 90 Hours |
Batch Timings
| Python Full Stack Schedule | Python Full Stack Timing |
| --- | --- |
| Monday to Friday | 8:00 AM – 10:00 AM |
| Monday to Friday | 10:00 AM – 12:00 PM |
| Monday to Friday | 2:00 PM – 4:00 PM |
| Monday to Friday | 4:00 PM – 6:00 PM |
| Saturday/Sunday | 8:00 | 12:00 | 2:00 | 4:00 |
| Sunday | 8:00 AM – 10:00 AM |
| Sunday | 10:00 AM – 12:00 PM |
| Sunday | 2:00 PM – 4:00 PM |
| Sunday | 4:00 PM – 6:00 PM |
Download Python Full Stack Course Brochure
FAQ