RPA-Automation Anywhere Training Course in Noida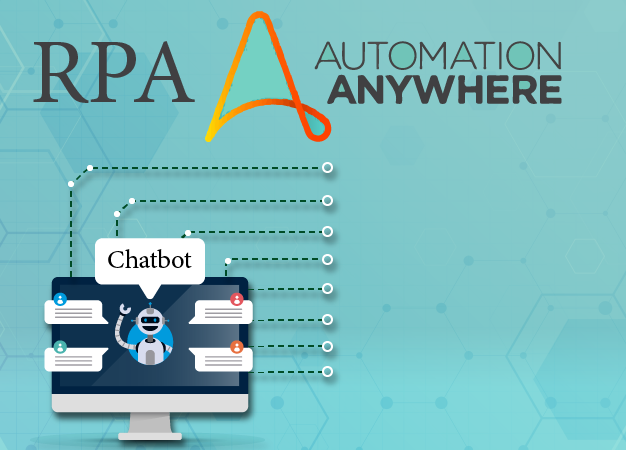 Automation Anywhere RPA Training
Dashboard & Task Editor
Types of Bots
Task Bots & Recordings
Types of Automation
Commands
Advanced Features of 10.x
Control Rooms
Plug-in & Settings
RPA Automation Anywhere Course in Noida
RPA-Automation Anywhere Training Course in Noida
Globally, Automation anywhere is a developer of robotic process automation (RPA) software. The enterprises looking to deploy a digital workforce composed of software bots that complete business processes end-to-end is possible with this company's product. This Enterprise syndicates old Robotics Process Automation with perceptive essentials such as reading unstructured data and natural language processing. Moreover, Automation anywhere allows you to create automated tasks with ease. Its well-built intuitive interface provides you the essential features to record modify and run tasks that range from simple to more complex ones. SLA Consultants Noida offers RPA Automation Anywhere Training Course curated from Technical Analyst who is industry experienced. Those who wish to make a career in RPA Automation Anywhere, SLA Consultants Noida is the best option that offers web/desktop based instructor-led corporate job oriented training. RPA Automation Anywhere Training Course by SLA Consultants Noida give chance to the learners to make the best utilization of RPA Automation Anywhere.
Automation Anywhere is an application that permits the businesses and establishments to mechanize the procedures prepared by individuals; it implies group of personnel do entire errands like data manipulation, communications, client managing, retort and much more. RPA enables you with processes that can be done by using the Robotic Process Automation tools. There are lots of benefits of RPA such as with the use of RPA, company decrease the total cost of a project, enables your teams to be 30-80% more efficient, by eliminating human errors in data entry processes, improves collaboration between employees and divisions, increases transaction speed, deducts costs and achieves higher ROI on your existing IT systems, disparate systems and data, integrates multiple, ERP systems, including legacy systems, web portals, and partner data.
Automation Anywhere can be specifically applicable for Process automation, IT support, and management, Automated assistant. SLA Consultants Noida provides RPA Automation Anywhere Training to freshers as well as working professionals to boost or pursue their career in the field of RPA. Now, Automation anywhere is one of the most trending tools of RPA. The companies are looking to automate the streamlined processes with RPA and get benefits out of that. Hence, there is a huge demand for RPA professionals in the industry. People who are certified in RPA are at an advantage.
This RPA Automation Anywhere Training Course provided by SLA Consultants Noida is suitable for anyone with a technical background who wants to build or kickstart a career in this high demand domain, including: Product developers, Project managers, Technology/Solution Architects, Operations support professionals, Team Leads, Product Managers, Business Analysts, Sales engineers. The knowledge of Automation Anywhere platform, tracking of the customer behavior, able to create and maintain automated marketing will be plus point then also SLA Consultants Noida give all-encompassing RPA Automation Anywhere Training Course with placement opportunity that allows learners to excel in career.
RPA Automation Anywhere Training Course specially designed by SLA Consultants Noida to jumpstart your career in the rapidly growing domain of robotic process automation, a market expected to reach $3.11 billion by 2024. Especially, the course will familiarize you with the Automation Anywhere Enterprise platform, architecture, components, specifications, and functionality. You'll know how to create and automate RPA bots, apply RPA in real-world scenarios and understand the importance of RPA in the broader technology landscape. SLA Consultants Noida provide RPA Automation Anywhere Training in modules that comprise of Introduction to Automation Anywhere – Automation Anywhere Dashboard – Task Bots -Overview on Task Editor -Commands Used – Meta bot -Automation Anywhere Client – Bot Store – IQ BOT – Control Room – Bot Insight – Solution Designing Experience – Project Planning & Best Practices.
Post successful completion of this course, you will be able to: Display a good understanding of RPA, Automation Anywhere Enterprise platform, its architecture, components, and various features and functionality, Understand the importance of RPA in today's process automation and technology landscape, earn as to how to create bots using different types of recorders, Make use of various recorders, editors, and instructions to constructs bots to mechanize unpretentious procedures, Smear your RPA acquaintance in practical set-ups. With SLA Consulatnst Noida RPA Automation Anywhere Training Course you will learn about: Software development, Automation Anywhere Enterprise platform, Architecture, and key specifications, Runtime client, Control room, Ways to create RPA bots and many more. You get a detailed look at the popular Automation Anywhere Enterprise platform, its architecture, and key specifications. This RPA Automation Anywhere Training Course by SLA Consultants Noida wraps up with hands-on exercises to enable you to implement the RPA methodologies you learn during the training. It provides in-depth knowledge on components of RPA software including software development, runtime client, control room, and ways to create RPA bots using varied recorders, editors, and commands. You also learn more advanced topics such as automation, web recorders, meta bots, and various use cases.
The automation is a software designed to automate simple, repetitive, time-consuming tasks. Particularly, in modern industries such as banking and finance, healthcare, insurance, and many others due to its wide spectrum of benefits: reliability, customer-friendly UI, and low cost, it is becoming an increasingly popular technology.
This global RPA market is expected to reach $3.11 billion by 2024, according to a new report by Grand View Research, Inc., growing at more than 30 percent CAGR, and more than 2,100 RPA jobs are there worldwide. The average annual starting salary of a robotics engineer in the US is $92,862.
It can be said that this Automation is already pervasive in our lives—from tried-and-true mechanized assembly lines to the dawn of self-driving cars—but these invisible "software robots" present in RPA software is what's happening now.
This exquisite certificate will highlight your credibility as a qualified, trained, and experienced professionals in the RPA field. It validates your ability to automate a real-time RPA based project in an AA Enterprise platform.
Hence, Automation Anywhere Certification Training builds all the skills required for a career as a certified RPA developer. It provides a detailed overview of Automation Anywhere Enterprise platform, architecture, features, functions, and all other major concepts involved in this course. You also learn how to build and automate RPA bots with real-time projects and use cases.
Below are the few job roles available for an Automation Anywhere professional:
RPA Developer
Robotics Process Automation Manager
Digital Media Coordinator
Process Automation Specialist
Information Technology Specialists.
Course Duration: 35 HRS with Highly Skilled Corporate Trainers (RPA – Automation Anywhere Training Course) for Modules-Weekdays/Weekend
SLA Consultants Noida – RPA-Automation Anywhere Certification Training Delivery Method:
Web / Desktop Base.
Instructor-Led Classroom Sessions.
Presentations/Demonstration/Practicals of concepts.
Handouts/Assignments/Real-time Exposure to work on Clients.
RPA – Automation Anywhere Programme Modules
RPA – Automation Anywhere Training Modules
Find the course details below.
Duration of Module
RPA-Automation Anywhere Course Module
Duration
RPA Automation Anywhere
35 (Hours)
Batch Timings
| RPA-Automation Anywhere Schedule | Timing |
| --- | --- |
| Monday to Friday | 8:00 AM – 10:00 AM |
| Monday to Friday | 10:00 AM – 12:00 PM |
| Monday to Friday | 2:00 PM – 4:00 PM |
| Monday to Friday | 4:00 PM – 6:00 PM |
| Saturday/Sunday | 8:00 | 12:00 | 2:00 | 4:00 |
| Sunday | 8:00 AM – 10:00 AM |
| Sunday | 10:00 AM – 12:00 PM |
| Sunday | 2:00 PM – 4:00 PM |
| Sunday | 4:00 PM – 6:00 PM |
Download RPA-Automation Anywhere Course Brochure
FAQ