VBA Training in Noida | VBA/Macros Automation Course With Live Projects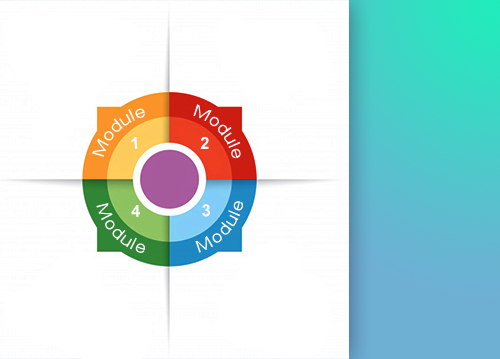 VBA/
Macros
Macros /VBA
& Dashboard
Microsoft
Access & SQL
Basic SAS
Basic Tableau
VBA/Macros Automation-
Access-SQL
Training Course in Noida
VBA Macros Course in Noida
VBA Macros Automation-Access-SQL & Free (Python/Tableau )
VBA or Visual Basic for Applications is the event-driven programming language from Microsoft which is used with Microsoft applications like MS-Word, MS-Access, and MS-Excel. VBA helps you to develop customized solutions or apps in order to improve the functionality of those apps or solutions. The biggest benefit of using VBA is you do not need to get it installed on your PC, however, by just installing Microsoft Office, you can serve the purpose. Visual Basic can be easily used in all versions of Microsoft Office. Excel and MS-Access are the most popular applications to use Visual Basic. With the help of VBA, you can conveniently build some powerful tools in MS Excel by using Linear Programming. VBA Macros are used to automate each and everything, ranging from simple tasks to creating complicated reports with multiple files. When it comes to MS-Excel, Macros can be used to get any task done. VBA used in MS Access Database can help professionals to manage small reusable processes, create self-defined functions, hold variables in the memory, manage powerful procedures lacking Access Macro, attach code to an event, communicate with other platforms or applications, and handle errors. You do not need to become a programmer to acquire Access VBA knowledge. All you need is to have the basic knowledge about the framework of MS Access and know how VBA will take over to enhance functionality.
If you want to ease out the creation of complex reports in your job, then you can consider learning more about VBA Macros Access via VBA Automation Access SQL Training Course in Noida. SLA Consultants Noida is counted amongst the most renowned Training Institutes in Noida, wherein you can enhance your VBA programming skills and learn how to to get your job done in the easiest manner. VBA/Macros Automation Access SQL Training Course includes never-ending practice sessions and practical learning experience, helping each candidate to get practical exposure when working with Access VBA or Basic Tableau. The 90 hours training course would be enough resource for candidates to upgrade and prepare themselves to enter the world of corporate. This certification course is suitable for fresher graduates, working professionals and those aspiring candidates who have basic knowledge of MS-Access and SQL. Our highly skilled corporate trainers are capable to deliver industry-oriented training sessions to make each candidate efficient and qualified in their profession. Join VBA/Macros Automation Access SQL Training Course provided by SLA Consultants Noida and kick-start your career after becoming a certified and professional VBA programming expert.
VBA Macros Access Training Course is specially designed by the leading industry experts of SLA to benefit the future career of aspired candidates. This course will not only enhance their knowledge/skills but also make them more efficient in their respected business organizations. This is a short-term training course provided by SLA Consultants Noida is perfectly suitable for any fresher, professionals working in the programming field and anyone who is willing to pursue a career in VBA Macros Automation. VBA Macros Training Course provides verified certification after its completion. This training course will help candidates to learn everything about VBA Macros programming step by step and along the way, they would be provided with practical sessions to make them practice their skills and learn to become an expert. All you need to have passion and desire to grasp all the real-time based training sessions and workshop classes conducted by our corporate trainers. The basic requirement of this training course is the basic understanding of Microsoft Office, VBA, and SQL.
VBA/Macros Automation Access SQL Training Course will give you a clear understanding about concepts like Dashboard & VBA Macros Programming, Logical Thinking Flowcharts & Algorithms, VBA Language, Excel VBA Programming For VBA Macros, User Forms to Create Business Wizards, Connection Between Excel VBA & other Platforms, Complete SQL in a Class, Fundamentals of SQL, Understanding RDMS, Working with the runtime of Tables, Design side of Reports, Building Real-World Business Application, Python, Basic Tableau, Tableau Dashboard, Managing Extracts, Data Aggregation and Data Ports, and a lot more.
The batch classes can be scheduled or re-scheduled during weekdays and weekends. To class timings and details are given on the website. Admin Support team will assist candidates to design or customize their classes as per their request. 90 hours training course also includes instructor-led classes, presentations, demonstrations, practical sessions, handouts, assignments, and real-time exposure to work with clients.
100% placement assistance is provided to all fresher graduate and working professional who want to avail the best career opportunities for their successful future. To start-off a flourishing venture of learning in the field of VBA programming, VBA Macros Access Training Course can be the best option for you. The industry-acceptable certification is provided to the candidates after the completion of this training course. This certification will prove your capability, expertise and build an impressive portfolio for you.
If you are willing to get a decent job in the desired company by upgrading your skills at SLA Consultants Noida, then it is advisable to you to join VBA/Macros Automation Access SQL Training Course.
Invariably, most of the business organizations use Visual Basic to work support the work in designing spreadsheets for complex business reports. Full-time VBA development uses a plethora of time-saving techniques that would help professionals to become more productive and skillful techie in a reputed company. By gaining extensive knowledge of Visual Basic Excel and learning more VBA programming skills, candidates can work on long and complex MS Excel tasks within seconds. In the corporate world, the majority of companies deal with tedious office tasks as they have to process and sort a large amount of data.
VBA/Macros Automation Access SQL Training Course is extensively beneficial for everyone, from professionals to fresher graduates. This training course will be going to help candidates to make their complex MS Excel tasks quick and hassle-free. Generally, each professional working in a business organization has to handle the collection and presentation of the data reports in his or her routine. Fresher candidates can also get immense benefit from this training course as they will be availing a lot of job opportunities in the future. A candidate with in-depth technical knowledge is always a better option than the person who is non-technical. For technical professionals, the chances of getting a better job will be automatically increased. During the VBA/Macros Automation Access SQL Training Course, candidates will be learning how to develop simple and highly interactive programs to conduct complex excel jobs. VBA is being used in almost all business organization from different sectors like banking, textile, finance, retail, and more. It also helps in the enhancement of your computation and programming skills. It will help employees to prepare financial reports and data collection.
It is highly recommended for you to join VBA/Macros Automation Access SQL Training Course provided by SLA Consultants Noida to stay updated with the technology to survive the competition. The scope of VBA is quite huge and candidates with VBA Macros Automation skills can find the best job opportunity in almost any reputed business industry. Therefore, if you are willing to join this training course at SLA, then it would be extremely significant for your career. SLA Consultants Noida is the leading training institute for aspiring candidates who are looking for career-oriented VBA Macros Automation Course in Noida. Our effective live-project based training, management, and highly experienced industry experts have guided a lot of students to move to the right career path. Therefore, register your name for this training course now!
If you often prepare long and tedious reports at your job then you must consider undergoing the Visual Basic Excel Training Noida. It would help you to get done with the reports with better efficiency and would also asset you to make an impression upon your seniors at the office. SLA Consultants Noida offers world Coaching Classes VBA Excel Macros Training Course that includes a lot of practice sessions and practical exposure. You can learn all about VBA/Macros Institute in Noida this course and can even start doing it yourself without any help. We offer admission to both, qualified professionals and fresh graduates as we know both play an important role in our society.
Course Duration: 80 – 90 HRS with Highly Skilled Corporate Trainers (VBA/Macros Automation-Access-SQL Training Course) for 4 Modules-Weekdays/Weekend
SLA Consultants Noida-VBA/Dashboard and Access (SQL) Practical Training Delivery Method:
Web / Desktop Base.
Instructor-Led Classroom Sessions.
Presentations/Demonstration/Practicals of concepts.
Handouts/Assignments/Real-time Exposure to work on Clients.
NOTE: Classes Are Also Available On Module Basis
VBA Macros Automation-Access-SQL Programme Modules
Free – Any Two (Python/R Programming /Tableau /Power BI)
Find the VBA Macros Automation-Access-SQL Training course details. Classes and Course can be designed/customize as per request
Duration of Module
| VBA Macros Course Module | Duration |
| --- | --- |
| Module 1 – VBA / Macros + Any Two (Python/R Programming /Tableau /Power BI) | 25 – 30 (Hours) |
| Module 2 – Access & SQL + Any Two (Python/R Programming /Tableau /Power BI) | 25 – 30 (Hours) |
| Module 1 to 2 – VBA / Macros + Access & SQL+ Any Two (Python/R Programming /Tableau /Power BI) | 70 – 80 (Hours) |
Batch Timings
| VBA Macros Course Schedule | VBA Macros Timing |
| --- | --- |
| Monday to Friday | 8:00 AM – 10:00 AM |
| Monday to Friday | 10:00 AM – 12:00 PM |
| Monday to Friday | 2:00 PM – 4:00 PM |
| Monday to Friday | 4:00 PM – 6:00 PM |
| Saturday/Sunday | 8:00 | 12:00 | 2:00 | 4:00 |
| Sunday | 8:00 AM – 10:00 AM |
| Sunday | 10:00 AM – 12:00 PM |
| Sunday | 2:00 PM – 4:00 PM |
| Sunday | 4:00 PM – 6:00 PM |