JMeter Course ▷ Performance Testing Training ▷ SLA Training Institute Noida ▷ 100% Job Support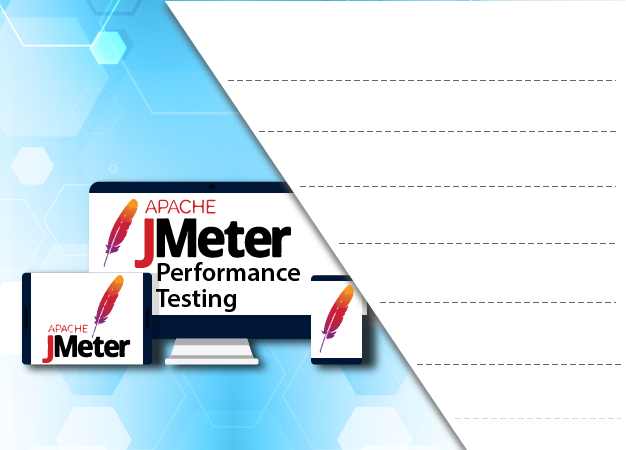 Performance Testing-JMeter Training
Script Enhancement
J-Meter Terminology
Black & White Box Testing
J-Meter Testing Process
Designing a Scenario
Static Testing
Performance Testing – JMeter Course Noida
Performance Testing – JMeter Training Course in Noida
Apache JMeter is open-source software and purely Java-based desktop application which is designed for Load Testing the Performance and function behavior of the websites. JMeter was originally made for Load Testing of web applications but with the Performance JMeter Course of time, it has opened to perform other test functions. It can test functionality and performance on dynamic and static resources. It can also stimulate a heavy load on a server or network in order to test the performance and strength under different types of loads. JMeter can be also used to conduct a functional test on databases, web services, LDAP, websites and more. It can simulate a large number of users that are sending requests to focus on a server and returns statistics showing the performance of the targeted server with the help of graphs, tables and more. JMeter was first developed by Stefano Mazzocchi who belongs to Apache Software Foundation. This pure Java desktop application can be run on multiple platforms and it allows simultaneous and concurrent sampling of various functions using an individual thread group. JMeter supports several testing strategies, including Distributed Testing, Load Testing, and Functional Testing. It can be integrated with Selenium and Bean Shell for automated testing. JMeter is quite intuitive, freely available and covers all the possibilities of automating your work in the simplest manner. The biggest advantage of using software is that it is open source – download the source or just make modifications if you feel like.
SLA Consultants Noida provides the Best JMeter Training Course in Noida helping candidates to build a flourishing career in Performance Testing. This Performance Testing Certification Course is designed by highly Professional Software Testers with more than 10 years of experience in the web development industry. By the end of the JMeter Testing Training Course, you will have a deep understanding of the capabilities that JMeter embraces. This JMeter Short-Term Training Course will help learners quickly become a JMeter expert. By mastering this leading open-source load testing tool, candidates can avail the most awaited career opportunities during their journey to find good placements. SLA Noida is a renowned JMeter Training Institute offering Industry-oriented JMeter Certification to both fresher and experienced candidates for Performance JMeter Testing Training.
JMeter Training Course provided by SLA Consultants Noida gives candidates the ability to design reliable and robust Performance Test Cases via JMeter Load Testing tool. This Performance Testing Training Course will help candidates to learn how to monitor the performance of applications using various load parameters. Industry-oriented JMeter Training Course will be delivered by expert and certified corporate instructors. Students will be provided with brilliant admin support to help them in scheduling or re-scheduling batch classes. The Instructor-LED JMeter Testing Training Course will be demonstrated via interactive group discussions and hands-on practical sessions on the implementation and installation of JMeter. This JMeter Testing Training will also include workshop sessions, real-time projects, series of technical tests to help candidates to glaze their ability. During the JMeter Testing Training Course, the candidates will get a clear understanding of basic concepts of testing, SDLC models, types of testing, detailed knowledge of Performance Testing, Recording script using JMeter, Script enhancement techniques, JMeter terminology, JMeter Testing Process, designing a scenario and result in analysis.
This Performance JMeter Testing Certification Course enables the candidates to put a load on various web applications and get an idea on every feature available in JMeter Performance Testing tool and know how to write Load Test cases. Candidates will be able to analyze and test the performance of different kinds of services while focusing on Web Applications. The Performance JMeter Testing Training Course
is designed in a systematic way to make it easy for all the candidates to acquire JMeter skills within less period of time.
This complete duration of JMeter Testing Training Course is divided into multiple modules – each of them is containing a lot of concepts to learn. JMeter Load Testing Certification Training will include presentations, assignments, demonstrations, handouts, updated study material and it will also help candidates get real-time exposure to work with customers. When the students will complete their 70% of the JMeter Testing Training Course, they will be provided with 100% Placement Assistance. The placement team will start scheduling interviews in popular business organizations. During Performance Testing Training Course, candidates will get a chance to expand their knowledge and upgrade their skills at the corporate level. The JMeter Load Testing Training Course is suitable for fresher, experienced professionals and individuals who are passionate about learning Performance Testing. SLA Consultants Noida is counted amongst the Best JMeter Training Institutes offering real-time project-based, Job-oriented Performance Testing Certification Course in Noida. Enroll to become an expert, certified JMeter Performance Engineer in the most reputed Software Testing company.
JMeter is designed by the industry-expert instructors that use their knowledge and skills to help students become a successful JMeter Performance Tester. JMeter is being used by most of the popular Software Testing companies. JMeter professionals or experts are earning a good amount of money as compared to other technology experts. With the increased number of career opportunities in JMeter Performance Testing, there are many job profiles available for a JMeter professional. SLA Consultants Noida has come up with an Industry-accepted JMeter Certification Course that will enable you to upgrade your skills and get a secure job in a multinational company. If you are still confused about choosing JMeter as a career option, then the following reasons will help you make the final decision.
JMeter has a very user-friendly and comprehensive GUI. Scripting is simple and clear, parameters are quite easy to understand, and adding other elements is also more intuitive. In LoadRunner, the configuration of the scripting, and scenario analysis is a performance in separate segments of one screen.
You can easily build test scenarios in JMeter. Additionally, it also does not need adding starting or ending transaction elements. Scripting isn't essential in JMeter.
It is a cross-platform which means you can run JMeter everywhere where Java runs. The LoadRunner works only on Linux or PCs. It also has open-source and vibrant community support which continues to add some features and helps users that run into problems and issues. An open-source test keeps getting better and always supports the needs and requirements of the clients.
JMeter can also help you to generate reporting in the most effective way. The test results will be easily displayed by using Chart, Graph, and Tree View. It supports multiple formats for reports like HTML, JSON, XML, and text.
Users can conveniently customize JMeter tool according to their requirements and apply Automated Testing to JMeter. Users can save their time from executing test cases manually. JMeter also supports multiple protocols like SOAP, JMS, HTTP, JDBC, FTP, and LDAP.
JMeter Training Course from industry leaders can help candidates get better positions and job opportunities. Many MNCs hire a performance testing and JMeter professionals with good knowledge of scripting. Performance Testing provides an increased number of career paths. You can work as a part of a big Software Testing company or become an instructor.
Many software companies are looking for the candidates with good JMeter Performance Testing skills and hands-on experience in working at the corporate level.
JMeter Testing Training Course provided by SLA Consultants Noida is designed for both fresher and working professionals that want to pursue the career in Performance Testing. At the end of the Performance Testing Training, candidates will be provided with an Industry-Accepted JMeter Load Testing Certification to help them get entry into the IT world with Software Testing Training.
Course Duration: 35 – 40 HRS with Highly Skilled Corporate Trainers
Performance Testing – Jmeter Training for Modules – Weekdays / Weekend
SLA Consultants Noida – Performance Testing – Jmeter Certification Training Delivery Method:
Web / Desktop Base.
Instructor-Led Classroom Sessions.
Presentations/Demonstration/Practicals of concepts.
Handouts/Assignments/Real-time Exposure to work on Clients.
Performance Testing – JMeter Programme Modules
Performance Testing – JMeter Modules
Module 1 – Performance Testing – JMeter
Testing Basics
Basic concepts of testing
Creating your first test case
SDLC models (Waterfall, V-Model, Prototype, Spiral & Agile methodology etc.)
Key difference between Manual and Automation Testing
Difference between Verification and Validation
Difference between Quality Assurance and Quality Control
Difference among Unit, Integration and System Testing
Types of Testing
Static Testing – Reviews, Walkthrough and Inspection
Dynamic Testing
Black Box & White Box Testing
Functional & Non-Functional Testing
Introduction to Performance Testing
What is Performance Testing
Need of Performance Testing
Performance Testing Types
Jmeter Overview
Recording Script using jmeter
Creating New script
Begin Recording on your application
Ending and saving a recording session
Running the Created Script
Script Enhancement Techniques
Parameterization
Correlation
Error Handling
Text Check
Jmeter Terminology
Thread group
Controllers
Listeners
Timers
Assertions
Post/Pre Processors
Jmeter Testing Process
Planning the test
Creating the scenario
Running the scenario
Monitoring the scenario
Designing a scenario
Creating a scenario
Run scenario with Vuser load
Result Analysis
Result Creation
Highlighting Bottlenecks
Find the Performance JMeter Load Testing course details below.
Duration of Module
| JMeter Load Testing Course Module | Course Duration |
| --- | --- |
| Jmeter Course | 35-40 (Hours) |
Batch Timings
| JMeter Load Testing Couse Schedule | Course Timing |
| --- | --- |
| Monday to Friday | 8:00 AM – 10:00 AM |
| Monday to Friday | 10:00 AM – 12:00 PM |
| Monday to Friday | 2:00 PM – 4:00 PM |
| Monday to Friday | 4:00 PM – 6:00 PM |
| Saturday/Sunday | 8:00 | 12:00 | 2:00 | 4:00 |
| Sunday | 8:00 AM – 10:00 AM |
| Sunday | 10:00 AM – 12:00 PM |
| Sunday | 2:00 PM – 4:00 PM |
| Sunday | 4:00 PM – 6:00 PM |
Download JMeter Performance Testing Course Brochure